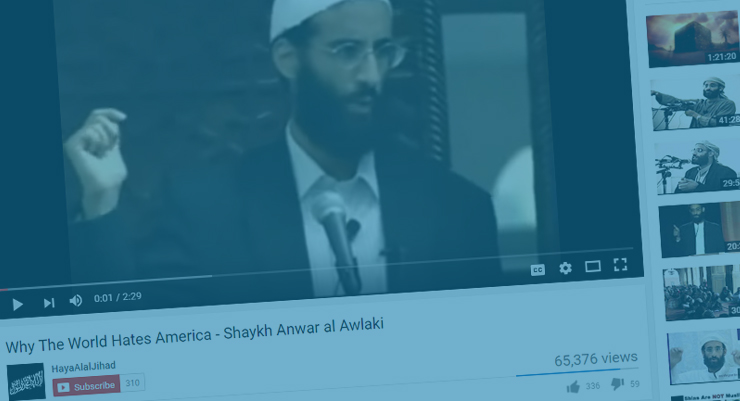 CEP was the first nongovernmental organization to formally call on social media companies, in particular Twitter, to take immediate action to stop extremists from weaponizing their networks. CEP's primary focus has been on Twitter due to its 'gateway' function into extremists' wider social media networks. Vulnerable individuals are initially exposed to extremist content and extremist recruiters on Twitter's easily accessible platform. Recruits are then invited to interact with jihadists on other message boards and private messaging platforms...
Daily Eye on Extremism
August 26, 2016
"In the aftermath of the coup, which failed but claimed more than 200 lives, Mr. Erdogan purged thousands of officers from the ranks, leaving the military seemingly depleted. It also provoked worry from Western allies, including the United States, that Turkey would either be unwilling or unable to be a reliable partner in the fight against the Islamic State. Instead, the opposite happened on Wednesday, as Mr. Erdogan ordered Turkish tanks and special forces soldiers into Syria, under cover of American and Turkish warplanes, to assist Syrian rebels in seizing the city of Jarabulus, one of the last border strongholds of the Islamic State. More Turkish tanks rumbled into northern Syria on Thursday to support rebels there, and the Turkish military seemed to be succeeding in clearing the border area of Islamic State militants, and preventing Kurdish militias from seizing more territory in the region — a primary goal of Turkey in the campaign."
The New York Times: With Invasion Of Syria, Erdogan Shows His New Power Over Turkey's Military
"It almost seems inevitable. With such an oppressive regime and a weakening infrastructure, the organization that touts itself as the caliphate is facing growing dissent within its civilian populace. And it looks like this gap is widening, especially after the efforts of a secret group called the Mosul Battalions. In Mosul, Iraq's second largest city and one of the few remaining ISIS bastions, this secret network has been causing disarray for ISIS members by carrying out assassinations and hit-and-run strikes against ISIS targets."
Business Insider: This shadowy group is assassinating ISIS members within its borders
"American hostage Kayla Mueller was tortured, verbally abused, forced into slave labor for ISIS commanders in Syria and raped by the group's top leader, but her fellow hostages say she never surrendered hope, she selflessly put the welfare of fellow captives above her own and she even stood up to executioner 'Jihadi John' to defend her Christian faith. Four former hostages who shared cells with Mueller, speaking publicly for the first time about their shared ordeal for ABC News' '20/20' broadcast, 'The Girl Left Behind,' airing Friday, say the Prescott, Arizona, humanitarian aid worker was a courageous 25-year-old who inspired them."
ABC News: Kayla Mueller In Captivity: Courage, Selflessness As She Defended Christian Faith To ISIS Executioner 'Jihadi John'
"A deal has been reached to allow civilians and rebel fighters to leave the Syrian town of Daraya after a long government siege. Both sides said that the evacuation of the town, near the capital Damascus, will begin on Friday. Government forces have encircled Daraya since 2012 and since then residents have faced near-constant bombardment and shortages of food, water and power. Civilians only received their first supplies in four years in June. It comes as US Secretary of State John Kerry is due to hold talks on Syria with his Russian counterpart Sergei Lavrov in Geneva. They are meeting in a bid to broker a temporary ceasefire in the city of Aleppo, where fighting between government and rebel forces has escalated in recent weeks, leaving hundreds dead."
BBC: Syria Daraya: Deal Reached To Evacuate Besieged Town
"A 19-year-old Palestinian was indicted in Jerusalem District Court on Thursday for allegedly stabbing a young ultra-Orthodox man in East Jerusalem earlier this month. Ahmad Na'im A'shayer, a resident of A-Tur, was charged with attacking the victim, reportedly a Jewish seminary student, outside a grocery store near the Mount of Olives cemetery. According to the charge sheet, A'shayer was empty-handed when he approached the student, but picked up a 'sharpened wooden plank' that was on the ground nearby, and stabbed his victim with it. The student sustained light-to-moderate injuries. He fled, flagged down a vehicle and traveled to a nearby Border Police station. He was taken to Hadassah Hospital on Mount Scopus, but has since been released."
The Times Of Israel: Palestinian Teen Indicted For East Jerusalem Stabbing
"In a nation drained of talent after decades of war, the school offered hope for those who stayed behind and stood in defiance to extremists who oppose Western-style, mixed-gender education. More than 50 people were wounded in the nine-hour assault, most of them students who were drawn to the promise of a world-class education based on an American model that the university offered. No group has claimed responsibility for the attack, but the heavily fortified university was long considered a possible target of the Taliban because of its ties to the West."
The Wall Street Journal: Terrorist Attack On Afghanistan's Top School Targeted Best And Brightest
"A survivor of the 2007 Minneapolis bridge collapse that killed 13 people now faces terror charges after authorities say he traveled to Syria to join the Islamic State group, departing the U.S. just a few weeks after collecting more than $91,000 in settlement money for his injuries. Mohamed Amiin Ali Roble, 20, was charged Wednesday with providing and conspiring to provide material support to a foreign terrorist organization. He was weeks shy of his 11th birthday when the school bus he was riding in plummeted about 30 feet as the bridge collapsed. Roble, one of 145 people who were hurt, received the settlement funds on his 18th birthday. Roble's name first surfaced in May during the federal trial of three Minnesota men who were convicted of conspiring to join the Islamic State group."
Associated Press: Minneapolis Bridge Collapse Survivor Faces Terror Charge
"The United Nations Children's Emergency Fund (Unicef) has once again warned of a worsening humanitarian crisis in Nigeria. It said of the half a million children estimated to be at risk, 49,000 in the north-eastern Borno state alone may be left to die if they do not receive timely help. The seven-year-long insurgency by the Islamic militant group Boko Haram in Africa's Lake Chad basin has displaced 1.4 million children. Besides, one million children are feared to be still trapped in many parts of the country that are deemed risky for people to travel, the UN children's agency said in a report released on Thursday (25 August). It has estimated that 475,000 children across Lake Chad in Borno state suffer from 'acute malnutrition' due to drought and violence, up from 175,000 in January 2016."
International Business Times: Nigeria: 49,000 Children May Die Of Malnutrition In Boko Haram-Hit Northeast, Warns Unicef
"Brussels has long been a destination of choice for those illegally trafficking antiquities—a category that potentially includes the funders of terrorism that has taken lives throughout the West in recent months. Belgium brings together all the elements that allow this illicit trade to flourish: lax laws and enforcement for art crimes, a location with easy access to the rest of the world, and a ready market. The Belgian capital is also a known transit point for looted art. In 2009, an undercover report by LinkTV exposed that Taliban-looted masterpieces were widely available for sale in the Brussels' galleries, fresh with dirt from Afghanistan and Pakistan. The European Union's de facto capital is also home to terror cells dependent on criminal activity to fund violence. The municipality of Molenbeek, where terrorists planned the 2015 Paris attacks, is a hub for this illegal trafficking. Both Islamic State fighters and those fleeing them provide channels to bring stolen material directly to Brussels."
The Wall Street Journal: Looted Art Helps Fund Jihadists In Europe
"An estimated 180 individuals with ties to Canada left the country and were believed to be involved in terrorist activity at the end of 2015, Canadian government says. Canada's public safety department said another 60 people had returned to Canada after allegedly participating in extremist activity abroad. The figures were contained in the government's 2016 Public Report on the Terrorist Threat to Canada, which was published online Thursday, and match those provided by the head of the Canadian Security Intelligence Service during an appearance before a Senate committee earlier this year. Canada and other western countries have struggled in recent years with how to prevent their residents from traveling abroad to join terrorist groups like Islamic State, as well as what to do with those individuals if they return home."
The Wall Street Journal: Canada Says 180 With Ties To Country Involved In Terrorism Overseas Last Year
"During a May 2011 shootout, Indonesia's counter-terrorism forces killed the leader of a militant group thought to be behind a series of failed bomb attempts around the city of Solo in Central Java. The death of "Team Hisbah" founder Sigit Qurdowi caused the group to splinter. Some formed an anti-vice squad in the city; many others became associated with a former Solo resident called Bahrun Naim, who authorities believe is a leading Indonesian coordinator for Islamic State (IS)."
New York Times: Indonesia's Most Wanted Awakens New Generation of Jihadis
"After a terrorist with known psychiatric issues drove his truck into 400 Bastille Day revellers in Nice -- killing 86 of them – resort towns all along the French Riviera acted swiftly to ban the burkinis, calling them a threat to secularism and security. Cannes, home to the renowned film festival, was the first to enact such a ban, but a dozen French coastal cities quickly followed suit. Ben Mohamed said much of the current animosity is down to French politics; there is an election next year, and with a fast-rising far-right in the country (and elsewhere in Europe), some politicians may be feeling pressure to take a strong line on Muslim extremism. The French Constitution establishes religious freedom and bans racial and ethnic discrimination. Nonetheless, many French -- including some judges -- invoke the principal of laïcité, or secularism, to justify a 2004 national law banning religious attire in schools, including Muslim headscarves, Jewish yarmulkes and Christian crucifixes."
CBS News: France's Burkini Bans Justifiable Security Measures Or Islamophobia?
Daily Dose
Extremists: Their Words. Their Actions.
Fact:
Iraqi forces discovered mass graves containing women and children in nearly every city that was liberated from ISIS.
The Counter Extremism Project acts to shine a light of transparency and accountability on those persons, businesses and institutions that financially underpin the activities of extremist groups.
Learn More