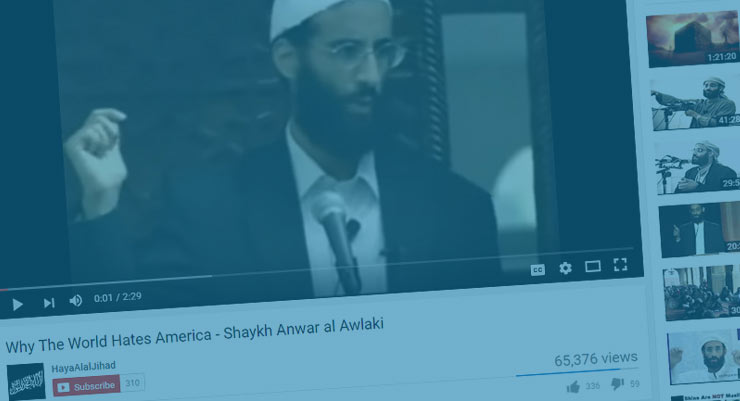 CEP was the first nongovernmental organization to formally call on social media companies, in particular Twitter, to take immediate action to stop extremists from weaponizing their networks. CEP's primary focus has been on Twitter due to its 'gateway' function into extremists' wider social media networks. Vulnerable individuals are initially exposed to extremist content and extremist recruiters on Twitter's easily accessible platform. Recruits are then invited to interact with jihadists on other message boards and private messaging platforms...
Daily Eye on Extremism
January 20, 2017
Yesterday, Counter Extremism Project, or (CEP), a non-profit organization that partners with agencies and governments worldwide to combat ideological extremists and terrorists, released a new and improved database, along with a slew of updated profiles, including information on dozens of well-known, high-level terrorists who are wanted around the world. The database released an array of features, including the ability for users to search through categorized information such as name, organizational affiliation, and country of origin. According to their website, users will be able to utilize a 'searchable list and an interactive map of detailed biographical information on more than 400 of the world's most dangerous extremist leaders, propagandists, operatives, and financiers.'
American Military News: Counter Extremism Project Releases Updated Terrorist Database
"Two United States Air Force B-2 bombers attacked Islamic State training camps in Libya overnight, killing more than 80 militants, including some who were involved in plotting terrorist attacks in Europe, the Pentagon said on Thursday. The attack, which also included strikes by armed reaper drones flying from a base in Sicily, was a parting shot from President Obama at the Islamic State, also known as ISIS or ISIL, and one of his final actions as commander in chief. "We need to strike ISIL everywhere they show up," Ashton B. Carter, the departing defense secretary, told reporters. "We know that some of the ISIL operatives in Libya were involved in plotting attacks in Europe."
New York Times: U.S. Bombs ISIS Camp In Libya
"Islamic State has ramped up sales of oil and gas to the regime of Syrian President Bashar al-Assad, U.S. and European officials said, providing vital fuel to the government in return for desperately needed cash. The regime's purchases are helping sustain Islamic State amid unprecedented military pressure on the militant group in both Syria and Iraq. It is also helping the group despite the regime's insistence that it is dedicated to eradicating the militant group with the help of its top allies Russia and Iran. Oil and gas sales to Mr. Assad's regime are now Islamic State's largest source of funds, replacing revenue the group once collected from tolls on the transit of goods and taxes on wages within its territory, the officials said. Their information comes from the monitoring of oil-truck traffic routes, which have changed from carrying oil to Turkey and Iraq to transporting it to Syria."
The Wall Street Journal: Islamic State Steps Up Oil And Gas Sales To Assad Regime
"Most Islamic State (IS) commanders in Mosul have been killed in battles with Iraqi government forces that raged over the past three months in the eastern side of the city, an Iraqi general said on Thursday. The fight to take the western side of Mosul, which remains under the jihadists' control, should not be more difficult than the one on the eastern side, Lieutenant-General Abdul Ghani al-Assadi told Reuters before embarking on a tour of areas newly retaken. Assadi's Counter-Terrorism Service announced on Wednesday that almost all of the city's eastern half had been brought under government control. 'God willing, there will be a meeting in the next few days attended by all the commanders concerned with liberation operations,' he said, replying to a question on when he expects a thrust into the western side of Mosul to begin."
Reuters: Most Islamic State Commanders In Mosul Already Killed, Iraqi General Says
"Shepherds herd blackened flocks through the Iraqi desert. Locals cough and wheeze under vast clouds of smoke, and NASA images show oil threatening to encroach on the Tigris River, a major water source. Lit by Islamic State as they fled Iraqi forces in August, huge oil fires are still raging across northern Iraq, bringing a litany of problems in their wake. A toxic cloud has hung for months over the town of Qayyara, just 60 km (40 miles) from Mosul where Iraqi forces are battling to defeat the militant Sunni group. It is an eerie reminder of the group's rule of the area as traumatized residents begin to rebuild."
Reuters: Iraqi Sheep, Locals, Environment Suffer Islamic State Oil Fires
"When Iraqi forces faced a fierce Islamic State counter-attack last month at a hospital in Mosul they had stormed without enough troops to hold it, U.S. advisers behind the front lines shepherded them to safety. And as they punched through the city's northern limits a few weeks later, it was again the Americans who counseled them how best to avoid roadside bombs and head off Islamic State suicide car bombers. Washington, leading an international coalition against the jihadists in Iraq and Syria, has launched thousands of air strikes over the past 2-1/2 years and provided aerial surveillance vital to pushing them back."
Reuters: Iraq Counts On U.S. Advisers, Mostly Out Of Sight, In War On Islamic State
"Just days before Christmas, as U.S. policymakers were settling into the holidays, Iran staged massive war drills, with one of its top military leaders even boasting that the Persian Gulf was within "range" of its fighting forces. At nearly the same time, Qassem Soleimani, the Commander of the Qods Forces of the Islamic Revolutionary Guard Corps (IRGC), surveyed the battered remains of Aleppo. Soleimani now appears prominently wherever the Iranians deploy Shia militias to weaken existing states and regimes in the broader Middle East. Whether threatening to heat up the Persian Gulf or using Shia militias as an instrument of their power, we are witnessing a pattern of Iranian aggression that has acceleratedin the year since the nuclear deal with Iran was implemented."
Time Magazine: Jeb Bush And Dennis Ross: Donald Trump Should Isolate Iran Immediately
"On Wednesday, for the second time this month, someone called the Jewish community center outside Wilmington, Del., and said a bomb was on the property. For the second time this month, children were evacuated from schools, gym patrons had their workouts interrupted and police dogs searched the campus. And for the second time this month, it turned out to be part of a frightening nationwide hoax targeting Jewish facilities. "It's concerning, it's frustrating," said Seth J. Katzen, the chief executive of the Jewish Federation of Delaware, whose staff trains several times a year for emergencies. "But as in any J.C.C. across the country, safety and security is our primary concern."
New York Times: Jewish Centers Across U.S. Face New Wave of Bomb Threats
"Islamic State militant group (ISIS) fighters have destroyed part of the Roman amphitheater in the ancient city of Palmyra, the Syrian director of antiquities confirmed Friday. Maamoun Abdulkarim, speaking to Newsweek by phone, said the extremist group had also destroyed the tetrapylon, a cubic-shaped ancient Roman monument. He provided satellite images, given to him by the Boston-based ASOR Cultural Heritage Initiative and taken by satellite imagery company DigitalGlobe, that displayed the destruction. "I am sure the future is very bad. It will be dramatic," he says. "We are sure that the coming times may be worse than before."
Newsweek: ISIS Destroys Facade Of Roman Amphitheater N Syria's Palmyra
"Months before his death, Osama bin Laden fretted about the Islamic State group's impatient, violent tactics and the fading of Al-Qaeda, documents released by the CIA on Friday showed. The latest release from the trove of documents found when Navy Seals stormed the Al-Qaeda chief's secret Pakistan compound and killed him in 2011 show bin Laden trying to keep his jihadist followers around the world aligned in his war against the United States. They also reveal a worried father warning his sons that they could be injected with electronic chips to track them, and advising Al-Qaeda soldiers in Northern Africa that it was okay to masturbate. He also spent significant time trying to manage the handling of foreigners kidnapped by far-flung affiliates of his radical Islamic group. And he showed a strong focus on affairs in his family's original homeland, Yemen, where a powerful new branch –Al-Qaeda on the Arabian Peninsula (AQAP) — was having a strong impact."
The Indian Express: Osama Bin Laden Documents: Worry Over IS Tactics, 'Ageing' Al-Qaeda
"Boko Haram extremists attacked a refugee camp in northeast Nigeria just days after Nigeria's air force bombed it, witnesses said Friday, as reports emerged that the death toll from the bombing could be as high as 170. More than 100 Boko Haram fighters launched the attack Thursday evening, and soldiers battled for hours trying to repel them, witnesses said. One witness said eight Boko Haram fighters were killed and one soldier was injured, though others said the toll was still being determined. The witnesses, who included aid workers and camp residents, spoke on condition of anonymity because of safety fears."
Washington Post: Boko Haram Attacks Camp Bombed By Nigeria's Air Force
"At a special Q&A session with foreign media in Berlin on Thursday, Germany's president of the Federal Office for the Protection of the Constitution (BfV), Hans-Georg Maassen, highlighted teenage and even younger Islamic radicals as a growing problem in the country. Maassen compared the 'jihadist movement' with both communism and National Socialism as totalitarian ideologies that specifically targeted young people. He said that groups like the so-called 'Islamic State' (IS) were trying to exploit the immature personality traits of adolescents by going after 'narcissistic young people searching for black-and-white truths, underdogs who want to be top dogs and part of the social avant-garde, and people who rebel against their parents and the system.' To illustrate his point, the BfV chief invoked a 15-year-old girl from the city of Hanover who attacked a policeman with a knife in February, seriously wounding him."
Deutsche Welle: IS 'Headhunting' Minors Online, Warns Domestic Intelligence Chief
Daily Dose
Extremists: Their Words. Their Actions.
Fact:
Al-Khansaa Brigade, the all-female 'morality police,' use metal prongs to tear off chunks of flesh to punish women who violate ISIS's strict dress code.
The Counter Extremism Project acts to shine a light of transparency and accountability on those persons, businesses and institutions that financially underpin the activities of extremist groups.
Learn More