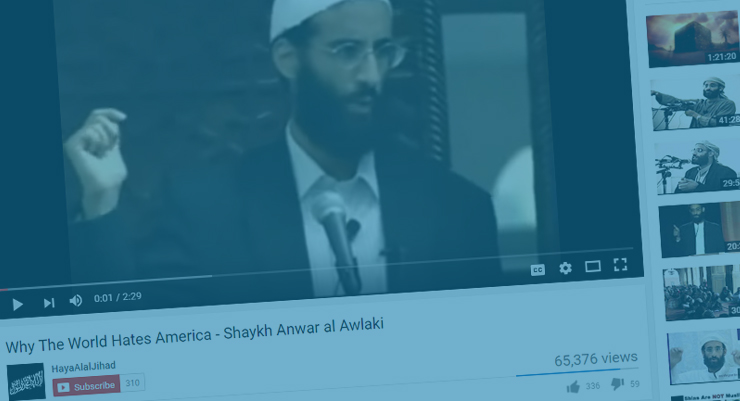 CEP was the first nongovernmental organization to formally call on social media companies, in particular Twitter, to take immediate action to stop extremists from weaponizing their networks. CEP's primary focus has been on Twitter due to its 'gateway' function into extremists' wider social media networks. Vulnerable individuals are initially exposed to extremist content and extremist recruiters on Twitter's easily accessible platform. Recruits are then invited to interact with jihadists on other message boards and private messaging platforms...
Daily Eye on Extremism
July 22, 2016
"Islamic State fighters holed up in one of the militant group's last major strongholds in northern Syria have 48 hours to leave the city, according to an ultimatum issued by the local military council of the United States-supported Syria Democratic Forces. The two-day window opened after the main Syrian exile opposition group called on the coalition to halt its bombing of militant positions near the city of Manbij after dozens of civilians were reported killed this week in airstrikes by the United States-led coalition."
New York Times: Group Backed By U.S. Gives ISIS 48 Hours To Leave Syrian City
"U.S. officials on Thursday called on partners in the coalition against Islamic State to increase intelligence sharing as the militant group morphs to focus on attacks beyond its shrinking self-declared caliphate in Iraq and Syria. 'Even as it is losing ground in the Middle East, we know already that they're going to try to transform themselves into (a) global terrorist organization,' U.S. Secretary of State John Kerry said after a meeting of defense and foreign affairs chiefs from about 40 nations in the U.S.-led coalition. 'We talked about the importance of real-time communication between countries, information sharing' about militant suspects, he said."
Reuters: Kerry Calls For New Measures To Counter Changing Islamic State
"The man who killed 84 people in Nice on Bastille Day conspired with several others in an attack planned for many months, France's top antiterror prosecutor said, reversing authorities' theory that he had only recently been radicalized. The shift in the investigation on Thursday came as investigators pored over phone and computer records and magistrates were interrogating five people suspected of providing support to 31-year-old Mohamed Lahouaiej Bouhlel. Paris Prosecutor François Molins laid out a timeline with evidence the attacker and his suspected accomplices had embraced Islamist extremism as early as the Charlie Hebdo attack in January 2015."
The Wall Street Journal: Attacker In Nice Conspired For Months
"An American civilian fighting alongside Kurdish troops in Syria has been killed fighting ISIS, according to a statement from the official website of the People's Protection Units, or YPG. The YPG said Levi Jonathan Shirley, a volunteer also known as Agir Servan, died on July 14 in Manbij, an ISIS-held city in northern Syria. Shirley first traveled to Syria in February 2015, joining the YPG in Rojava. After a short trip back to the United States, he returned to Syria in January 2016, fighting in Al-Jazira and Kobani before the offensive to recapture Manbij. The YPG, a Kurdish group of some 30,000 fighters, is the senior partner in the Syrian Democratic Forces, which also includes some smaller Arab and Christian groups."
CNN: American Volunteer Killed Fighting ISIS In Syria
"A rapid advance toward the Islamic State-held city of Mosul in the past few weeks has exposed tensions among competing Iraqi political factions over who will participate in the final offensive and who will govern the city if it is recaptured. The fight for Mosul is high on the agenda this week as international defense and foreign ministers gather in Washington to discuss military strategy against Islamic State and raise funding for Iraq, where a humanitarian crisis is already unfolding among the millions displaced by the fighting."
Wall Street Journal: Iraqi Factions Vie To Take Part In Mosul Offensive
"Turkey entered its second day under a state of emergency as President Recep Tayyip Erdogan signaled that the three-month period approved by parliament may not be enough to complete a purge of those responsible for last week's failed coup. Erdogan told Reuters that there's no obstacle to extending emergency rule, which took effect at 1 a.m. on Thursday and was later endorsed by parliament. It allows the government to issue decrees with the force of law, and detain suspects for longer periods without trial. The hunt for enablers and perpetrators of the coup, which Turkey's government blames on followers of the U.S.-based cleric Fethullah Gulen, has extended far beyond an initial roundup of military suspects, and its scale has added to investor concerns about political stability. Judges, prosecutors, academics and teachers have been detained or dismissed. The official Anadolu news agency said more than 10,000 people are in custody."
Bloomberg: Turkey Enters Emergency-Rule Era As Erdogan Hints At Extension
"When Russian aircraft bombed a remote garrison in southeastern Syria last month, alarm bells sounded at the Pentagon and the Ministry of Defense in London. The Russians weren't bombarding a run-of-the-mill rebel outpost, according to U.S. officials. Their target was a secret base of operations for elite American and British forces. In fact, a contingent of about 20 British special forces had pulled out of the garrison 24 hours earlier. British officials declined to comment. U.S. military and intelligence officials say the previously unreported close call for Western forces on June 16, and a subsequent Russian strike on a site linked to the Central Intelligence Agency, were part of a campaign by Moscow to pressure the Obama administration to agree to closer cooperation in the skies over Syria."
The Wall Street Journal: Russia Bombed Base In Syria Used By U.S.
"Current and former U.S. officials say a recent ISIS attack on the tomb of Mohammed in Saudi Arabia -- Islam's second holiest site -- shows the terror group is now directly challenging the kingdom's ruling family and trying to topple the monarchy. 'The Saudi king's tiles include 'Protector of the two Holy Cities,' said one senior U.S. counterterrorism official. 'The message of the attack is that that protection doesn't exist.' The kingdom's two holy cities, Mecca and Medina, are home Islam's two holiest sites, the Qabba in Mecca, which millions of pilgrims visit every year, and the Mosque of the Prophet in Medina, which holds Mohammed's tomb."
NBC News: ISIS Trying To Topple Saudi King With Attack On Mohammed's Mosque
"Brazil arrested 10 people on Thursday suspected of belonging to a poorly organized group supporting Islamic State (IS) and discussing terrorist acts during the next month's Olympic Games in Rio de Janeiro. The group, described as 'absolutely amateur' by Justice Minister Alexandre Moraes, were all Brazilian citizens and in contact via messaging apps such as WhatsApp and Telegram. They did not know each other personally, the minister said. The arrests came a week after a truck massacre in Nice, France, and amid growing fears of a possible attack when the first Olympics to be held in South America kicks off on Aug. 5. Some 500,000 visitors are expected to travel to Brazil for the Games, many of them from the United States."
Reuters: Brazil Arrests 10 For 'Amateur' Terror Plot Against Olympics
"Nigeria's military says it has rescued 80 children and women held captive by the Boko Haram extremist group in a remote northeastern village. Army spokesman Col. Sani Kukasheka Usman says they were freed Tuesday by troops who attacked a gathering of the Islamic fighters at Gangere village in Borno state. He says 42 extremists were killed and troops released 42 children and 38 women. The military has reported freeing as many as 10,000 Boko Haram captives this year but none of the 219 girls from Chibok school. That mass abduction in April 2014 shocked people around the world and brought global attention to the seven-year Islamic insurgency that has spread across Nigeria's borders."
Associated Press: Nigerian Military Rescues 80 Children, Women From Boko Haram
Daily Dose
Extremists: Their Words. Their Actions.
...I eventually came to the conclusion that jihad against America is binding upon myself, just as it is binding on every other able Muslim.
The Counter Extremism Project acts to shine a light of transparency and accountability on those persons, businesses and institutions that financially underpin the activities of extremist groups.
Learn More