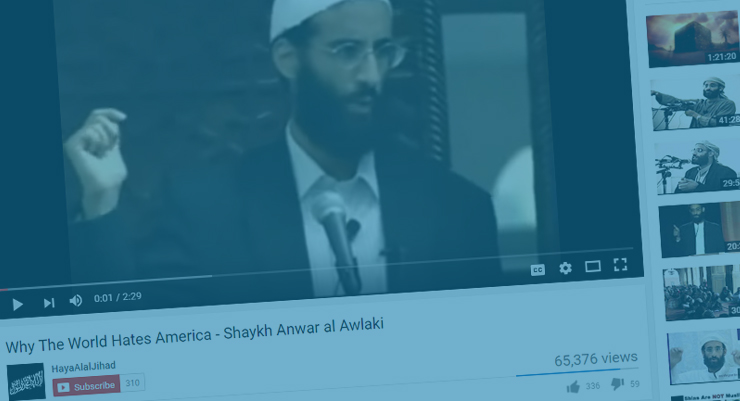 CEP was the first nongovernmental organization to formally call on social media companies, in particular Twitter, to take immediate action to stop extremists from weaponizing their networks. CEP's primary focus has been on Twitter due to its 'gateway' function into extremists' wider social media networks. Vulnerable individuals are initially exposed to extremist content and extremist recruiters on Twitter's easily accessible platform. Recruits are then invited to interact with jihadists on other message boards and private messaging platforms...
Daily Eye on Extremism
September 28, 2016
"FBI Director James Comey said Tuesday that even though he is convinced that the Islamic State of Iraq and Syria (ISIS) will be destroyed soon, that will not be the end of it. Comey, in testimony before Congress, said the U.S. remains extremely concerned that violent extremists will eventually flow out of Syria and Iraq and into other countries in hopes of committing attacks. The number of Americans traveling to Syria to fight alongside ISIS has slowed to a trickle in the last year, but as the so-called caliphate becomes "crushed," many militants from Western nations who are already there will stream out of the region and create new security threats."
Associated Press: FBI Director Warns Of Upcoming Massive "Terrorist Diaspora"
"Holed up in an Orlando nightclub and surrounded by police, Omar Mateen told a hostage negotiator that he was angry about the death of a top Islamic State operative, according to recently released transcripts of their phone conversations during Mateen's massacre earlier this year. The new details of the conversations, released by Orlando Police last week, show Mateen had more than a passing interest in Islamic State, counterterrorism experts said.  He specifically singled out the death of Abu Wahib, one of the more visible leaders of the terror group, as one of the main motivations for his attack. Abu Wahib was killed in an airstrike in Iraq just weeks before Mateen opened fire at the Pulse nightclub in June in an attack that killed 49 people and wounded 53. Mateen died in a shootout with police."
Wall Street Journal: Transcripts Show ISIS Influence On Orlando Gunman
"U.S. military strikes near Kanjaron village on Monday killed four al-Shabab militants including a former commander, military sources tell VOA Somalia. Airstrikes outside the village killed the former commander and three others Somali military sources identified the former commander as Bashir Dhere, a former al-Shabab deputy militia commander in the Lower Jubba region. Sources say he most recently operated in an Al-Shabab-controlled area west of Kismayo, though it is unclear where he ranked within the terror network. In a statement, US AFRICOM said the four were killed in 'self-defense' airstrikes after extremists attacked Somali troops and their U.S. advisers outside the port of Kismayo."
Voice Of America: U.S. Airstrikes Take Out Al-Shabab Commander In Somalia
"The two largest hospitals in besieged eastern Aleppo have been put out of service in airstrikes overnight and on Wednesday morning, the latest in a devastating week-long bombing campaign that has claimed hundreds of lives. The M2 and M10 hospitals, codenames used by local doctors to obscure the locations of the facilities, were hit at about 4am and then again at around 10am in what one health official described as a bombing campaign that was "catastrophic and unprecedented in modern history."
The Guardian: Two Aleppo Hospitals Bombed Out Of Service In 'Catastrophic' "Airstrrike"
"Separate suicide bombings ripped through busy commercial areas in Shiite-dominated neighborhoods of the Iraqi capital on Tuesday, killing at least 17 civilians, officials said. The deadliest attack took place in the eastern New Baghdad neighborhood, where a bomber approached a gathering of construction workers and set off his explosives-laden vest, killing 11 civilians, a police officer said. At least 28 civilians were wounded, and the explosion damaged nearby shops and cars, he said. Hours later, another suicide bomber blew himself up in an outdoor market in the southwestern neighborhood of Bayaa, killing six shoppers and wounding 21 others, another police officer said."
Associated Press: Iraq: ISIS Bombings In Baghdad Kill At Least 17 Civilians
"The suspect in the bombing this month in New York's Chelsea neighborhood appears to have acted on his own, with no connection to an extremist movement, the FBI said Tuesday. "We see so far no indication of a larger cell or the threat of related attacks," FBI director James Comey testified at a Senate committee hearing. The suspect in the September 17 bombing that left 31 people wounded, Ahmad Khan Rahami, was arrested in New Jersey two days after the attack."
Daily Mail: New York Bomb Suspect Apparently Acted Alone: FBI
"Three Turkish soldiers were wounded in the drone attack in the Wukuf region of northern Syria. The news comes after ISIS declared they were creating a "drone airforce" to bring terror to their enemies. The three wounded men were taken across the border to Kilis to receive treatment. Last week, the cult sucessfully downed a US military drone. The cult has been known to use quadcopter style unmanned vehicles as well as winged drones."
Daily Star: ISIS Launches Kamikaze Drone Bomb Assault On Soldiers In Syria
"A captured ISIS fighter has admitted that the wives of Free Syrian Army soldiers, the group most closely aligned with the West's hopes for Syria's future, are being seized by ISIS and used as "slave girls." The report comes from the Middle East Media Research Institute, which found the recording on the Alaan TV channel of the United Arab Emirates. The report quotes Abu Al-Mughaira Al-Muhajer, an ISIS fighter captured in Aleppo, who discussed the ISIS practice of rewarding fighters with slaves."
WND: ISIS Fighter Admits Soldiers' Wives Used As 'Slave Girls'
"On Sunday, a prominent Jordanian writer was assassinated on the steps of an Amman courthouse, where he was to face charges for having shared a supposedly blasphemous cartoon on social media. Nahed Hattar's accused killer, it later emerged, was a 49-year-old former imam from an impoverished neighborhood in the Jordanian capital. The offending image, which had prompted his arrest and myriad death threats, depicted God checking in on an extremist militant in heaven. The killing of Hattar unleashed a wave of understandable angst in Jordan, a country that is buffeted by the tumult of a wider region in conflict. It led to the now-familiar hand-wringing over the limits of free speech in Arab societies. And it shined a spotlight once more on the perils of extremism in a nation that has seen the resurgence of the Muslim Brotherhood, a party that embraces political Islam, in elections last week."
Washington Post: Egyptian Journalist Cheers Secular Writer's Assassination On Television
"Using a eucalyptus tree for shade, dozens of women sit clutching skinny children, the infants' reddish hair and bloated bellies signalling malnutrition. Nearby, plastic sheeting is strewn in haphazard fashion between mud huts to create the makeshift housing they have been calling home for months as they struggle to survive with little food or other assistance. The women and children are among 8,000 Nigerians who fled to Sabon Gari, a small village in Borno state — epicentre of the insurgency by Boko Haram, the Islamist group that has wreaked havoc across north-east Nigeria."
Financial Times: Hunger And Fear Stalk Boko Haram Survivors
Daily Dose
Extremists: Their Words. Their Actions.
Fact:
ISIS boiled six men alive in vats of tar for alleged collaboration with U.S.-led coalition and Kurdish forces.
The Counter Extremism Project acts to shine a light of transparency and accountability on those persons, businesses and institutions that financially underpin the activities of extremist groups.
Learn More