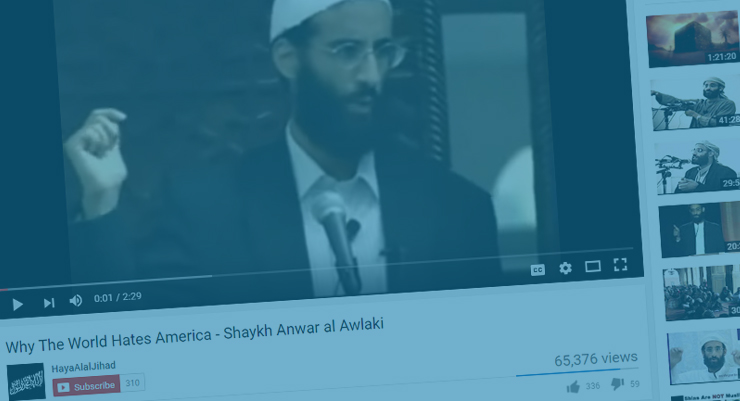 CEP was the first nongovernmental organization to formally call on social media companies, in particular Twitter, to take immediate action to stop extremists from weaponizing their networks. CEP's primary focus has been on Twitter due to its 'gateway' function into extremists' wider social media networks. Vulnerable individuals are initially exposed to extremist content and extremist recruiters on Twitter's easily accessible platform. Recruits are then invited to interact with jihadists on other message boards and private messaging platforms...
Daily Eye on Extremism
October 26, 2016
"As Iraqi and Kurdish fighters move in on the city of Mosul, the United Nations says it is receiving reports of the 'murderous' atrocities committed by ISIS, including extrajudicial killings and summary executions against women, children and male civilians in Iraq. The UN also said it continues to receive information that ISIS fighters are 'deliberately' using civilians as human shields – 'forcing them to move to sites where ISIL fighters are based, or preventing them from leaving other places for strategic reasons.' On Saturday, ISIS fighters reportedly shot and killed three women and three girls from a village called Rufeila in the al-Qayyarah sub-district, south of Mosul. The victims were allegedly shot because they were trailing about 100 meters behind other villagers who were being forced by ISIS to relocate to another sub-district, according to the UN."
ABC News: ISIS Committing 'Murderous' Atrocities On Iraqi Civilians, UN Says
"ISIS is sending "suicide squads" from Syria to its Iraqi stronghold of Mosul, witnesses have told CNN, as tens of thousands of troops close in on the key city to take it from the militant group's control. Witnesses said hundreds of new arrivals had streamed into Mosul from the group's heartland of Raqqa, Syria, in the past two days, describing them as foreign fighters wearing distinct uniforms and suicide belts, and carrying light weapons. ISIS fighters have been seen rigging bridges across the strategic Tigris river with explosives and have prepared dozens of vehicle-borne suicide bombs."
CNN: Mosul: ISIS Sends 'Suicide Squads' To Iraqi Stronghold
"Russia could shoot down a U.S. aircraft if a no-fly zone were imposed over Syria, National Intelligence Director James Clapper said Tuesday. 'I wouldn't put it past them to shoot down an American aircraft if they felt that was threatening to their forces on the ground,' Clapper said, speaking with CBS' Charlie Rose at the Council on Foreign Relations in New York about several national security issues. Russia has deployed a very advanced and capable air defense system in Syria and would not have done that if it wouldn't use it, Clapper said. The Obama administration has refrained from setting up a no-fly, or safe, zone for civilians in Syria partly because of the complexity in staffing and enforcing it and the potential for direct military confrontation between the U.S. and Russia."
Associated Press: US Official: Russia Might Shoot Down US Aircraft In Syria
"An Iraqi paramilitary umbrella group made up of Iranian-backed Shiite militias has been ordered to cut off the Islamic State militant group's (ISIS) access to Syria in northern Iraq, in a bid to prevent thousands of jihadis fleeing to the war-torn country, its spokesman said Tuesday. Hashd al-Shaabi, whose militias are feared for their brutality, has been a significant player in the battle to recapture ISIS-held cities in western Iraq, particularly Fallujah and Ramadi, but its role has been limited in the operation to liberate Mosul."
Newsweek: Iraqi Militias Tasked With Barring ISIS From Syria
"As thousands of Iraqi troops slowly encircle the city of Mosul, Defense Secretary Ashton B. Carter met here Tuesday with key coalition members, suggesting that the battle for the Islamic State's de facto capital in northern Syria could soon begin. Carter spoke alongside French Defense Minister Jean-Yves Le Drian, discussing what will come after the last Islamic State fighters are purged from Mosul and the coalition sets its sights on Raqqa, Syria. Carter said the U.S.-led coalition is helping to build the local force, including a contingent of Arab fighters, that will be used to enter Raqqa."
The Washington Post: With The Battle For Mosul Underway, U.S. Sets Sights On ISIS Capital Of Raqqa
"American air strikes in Afghanistan this year have already significantly surpassed the total number conducted in 2015, a stark indicator of the United States' struggle to extricate itself from the conflict and stick to its declared 'non-combat' mission.  American warplanes have conducted around 700 air strikes so far this year, compared to about 500 in total last year, according to U.S. military officials, signaling a deeper role for American forces that is expected to continue for the foreseeable future. Ending American involvement in Afghanistan was one of President Barack Obama's signature promises and he declared the combat mission over at the end of 2014."
Reuters: U.S. Air Strikes Spike As Afghans Struggle Against Taliban, Islamic State
"A Pakistani militant group said it cooperated with Islamic State to carry out a deadly nighttime attack on a police academy in the southwestern city of Quetta, demonstrating how the group based in Iraq and Syria can operate in new territory. Islamic State claimed it carried out the attack—a sign that while the group is losing ground in the Middle East, it is looking to go on the offensive in South Asia, alongside local jihadist organizations. Islamic State has claimed responsibility for other recent attacks in Pakistan and Bangladesh. In Monday night's assault, three militants armed with guns and suicide vests stormed a dormitory filled with police cadets, killing more than 60 people and injuring scores of others. The head of the provincial paramilitary force blamed the assault on the local group Lashkar-e-Jhangvi al Alami. One security official said it appeared the group had worked with others."
The Wall Street Journal: Police Academy Attack Shows New Security Threat To Pakistan
"An Israeli civilian, who was aged 15 according to his father, was killed by gunfire along the border with Egypt on Tuesday, the Israeli military said. The army said in a statement that the shooting did not appear to be connected to militant action and that the Israeli and Egyptian militaries were investigating the incident. Israel's defense ministry named the victim as Nimr Abu-Amar an Arab Israeli working for a contractor firm it had hired to carry out maintenance work on the border fence. He died of his wounds while being airlifted to an Israeli hospital from the remote Israel-Egypt border area in the Negev desert where the shooting occurred, an army spokeswoman said. Bassam Abu-Amar, Nimr's father, said his son had accompanied family members working on the border fence doing odd jobs and preparing coffee for other members of the crew."
Reuters: Israeli Teenage Worker Killed By Gunfire Along Egyptian Border
"Two women who U.S. prosecutors say led an online group in raising money to support the Somali insurgent group al Shabaab were convicted by a federal judge on Tuesday following a trial in U.S. District Court in Virginia. Muna Osman Jama, 36, and Hinda Osman Dhirane, 46, were found guilty of organizing the so-called "Group of Fifteen" women from eight countries that helped finance al Shabaab military operations and safehouses in Somalia and Kenya, according to the U.S. Attorney's Office for Eastern Virginia."
Reuters: Two Women Convicted In U.S. Of Financing Somali Group Al Shabaab
"Islamic State's push to co-opt one of Africa's deadliest jihadist movements has come with an attempt to present a softer face to potential recruits. Over the past year, the jihadist group also known as ISIS and Daesh has launched a broad recruitment campaign across Somalia to pry foot soldiers and senior operatives from al-Shabaab, a two-decade-old insurgency allied with al Qaeda that has made it very clear they have no desire to switch franchises. Stung by battlefield losses to larger al-Shabaab forces, Islamic State has offered promises of an easier life: lower taxes, more tolerance for substance abuse and fewer political diatribes."
Wall Street Journal: African Terror Franchise Now Has Competition From Islamic State
"When the bodies of 16 members of the Qasim family were pulled from the rubble of their home last month, there was no space left in one of Aleppo's largest cemeteries to bury them. Gravediggers unearthed seven graves of relatives and divided the newly dead among them. They buried a mother, her two children and sister with her grandmother. Other children were buried in their grandfather's grave. The men were buried with their fathers. "We pushed the old bones to one side and then lowered the new body in," said Ahmad Sabbagh, an embroiderer-turned-gravedigger."
Wall Street Journal: 'There Are No More Panes Of Glass Left In Aleppo'
Daily Dose
Extremists: Their Words. Their Actions.
Fact:
ISIS's religious police in Raqqa chopped off an 11-year-old boy's arm as punishment for alleged stealing.
The Counter Extremism Project acts to shine a light of transparency and accountability on those persons, businesses and institutions that financially underpin the activities of extremist groups.
Learn More