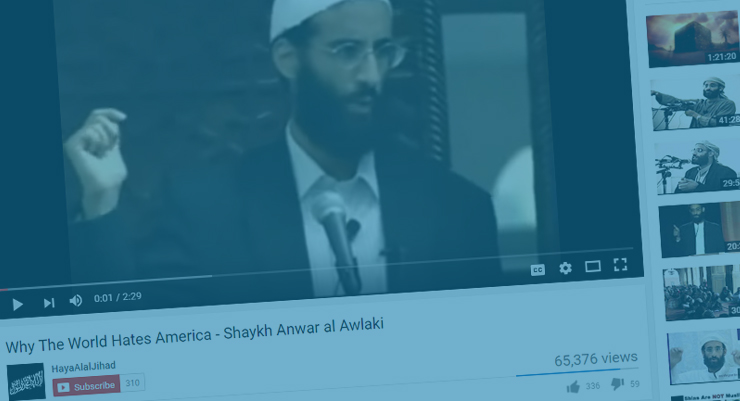 CEP was the first nongovernmental organization to formally call on social media companies, in particular Twitter, to take immediate action to stop extremists from weaponizing their networks. CEP's primary focus has been on Twitter due to its 'gateway' function into extremists' wider social media networks. Vulnerable individuals are initially exposed to extremist content and extremist recruiters on Twitter's easily accessible platform. Recruits are then invited to interact with jihadists on other message boards and private messaging platforms...
Daily Eye on Extremism
October 21, 2016
"Federal prosecutors revealed this week that an indicted Arizona man helped a 24-year-old U.S. college student join Islamic State in Syria, where he died in November, 2015. The FBI indicted Ahmed Mohammed el Gammal in August, 2015, but only revealed the death of U.S. college student Samy Mohammed El-Goarany this week. Goarany was raised in Middletown, N.Y. and attended college in Manhattan in 2014. Sometime in 2014 he began showing an interest in radical Islam, and began making pro-ISIS comments online. Goarany connected with Gammal on a forum, and continued to communicate via encrypted messaging software recommended by Edward Snowden, the FBI alleges. Gammal then allegedly traveled to New York in October, 2014, to help facilitate Goarany's trip to Turkey. The FBI believes Goarany received military-style training in Turkey, before passing into Syria in February, 2015."
The Daily Caller: FBI Reveals Arizona ISIS Recruiter Sent US College Kid To Die For ISIS
"In a significant escalation of the battle for Mosul, elite Iraqi special forces joined the fight Thursday, unleashing a pre-dawn assault on an Islamic State-held town east of the besieged city, and the U.S. military announced the first American combat death since the operation began. U.S. officials said the American service member died Thursday from wounds sustained in a roadside bomb explosion north of Mosul. More than 100 U.S. special operations forces are embedded with Iraqi units in the offensive, and hundreds more are playing a support role in staging bases. The American had been operating as an explosive ordnance disposal specialist in support of the Iraqi Kurdish force known as the peshmerga, the U.S. officials said, speaking on condition of anonymity because they were not authorized to publicly discuss details."
Associated Press: Iraqi Special Forces Join Battle For Mosul, US Soldier Dies
"Iran has stepped up weapons transfers to the Houthis, the militia fighting the Saudi-backed government in Yemen, U.S., Western and Iranian officials tell Reuters, a development that threatens to prolong and intensify the 19-month-old war. The increased pace of transfers in recent months, which officials said include missiles and small arms, could exacerbate a security headache for the United States. Last week, the U.S. struck Houthi targets with cruise missiles in retaliation for failed missile attacks on a U.S. Navy destroyer. Much of the recent smuggling activity has been through Oman, which neighbors Yemen, including via overland routes that take advantage of porous borders between the two countries, the officials said."
Voice Of America: Iran Reportedly Steps Up Weapons Flow To Yemen's Houthis Via Oman
"The Shin Bet said on Thursday that it had uncovered an Islamic Jihad plot to carry out an attack in Be'er Sheva and kidnap an Israeli soldier. The security service and the police said they arrested the members of an Islamic Jihad cell that was planning a major attack on a wedding hall in the southern city of Be'er Sheva. The suspects planned to carry out the wedding hall attack by throwing grenades at the people dancing and setting off explosives concealed in the furniture while using weapons hidden in trash cans outside, according to the indictment. This, in addition to the kidnapping and murder of a policeman, officer or soldier."
Haaretz: Israel Says Uncovered Islamic Jihad Plot To Attack Wedding Hall, Kidnap Soldier
"There are hundreds of different armed groups and at least five or six different centers of power in Libya. One major power is the government of General Khalifa Haftar, it is in the east of Libya but moving westward. In Tripoli there are two governments: One is unrecognized as such and currently holds just one building, but it still calls itself a government. The other is the internationally recognized government of Fayez al-Sarraj. There are lots of groups calling themselves governments in Libya, but none actually does the things that a government must do, such as: managing a budget, maintaining an army, issuing passports, and so on."
Deutsche Welle: Libya In Chaos Five Years After The Death Of Moammar Gadhafi
"UK immigration laws permitting refugees to be deported if they exhibit 'extremist behaviour' may breach a United Nations convention, the organisation's general assembly is to be told. In a speech condemning states for exploiting security fears to frustrate their international legal obligation to provide safe havens, the UN official responsible for reporting on counter-terrorism, Ben Emmerson QC, will criticise the UK's record. 'The link between displacement of people from their homes and risks to national security in the countries in which they seek refuge has been irresponsibly and misleadingly overblown in many states, with the refugee crisis being used to stoke public fears of terrorism,' he is due to tell the UN session on Friday."
The Guardian: UK Policy To Deport Refugees For 'Extremist Behaviour' Criticised
"A predawn attack on a French policeman's home, the killing of a priest during Mass and a car bomb planted near Notre Dame Cathedral in recent months were plots that appeared isolated until investigators discovered a common thread. Their authors had all allegedly been in contact with a man whom authorities identify as 29-year-old Rachid Kassim. From somewhere in Islamic State-held territory in Iraq or Syria, authorities say, the French national had used the encrypted Telegram chat app and other social-media tools to contact people back home—mainly French teenagers who are believed to have little or no previous connection to the terror group or each other—and instruct them on how to mount attacks."
The Wall Street Journal: How Islamic State Weaponized The Chat App To Direct Attacks On The West
Daily Dose
Extremists: Their Words. Their Actions.
Fact:
Under ISIS's rule, after a man dies, his wife is locked away for one year and then forced to marry, a form of legalized rape.
The Counter Extremism Project acts to shine a light of transparency and accountability on those persons, businesses and institutions that financially underpin the activities of extremist groups.
Learn More