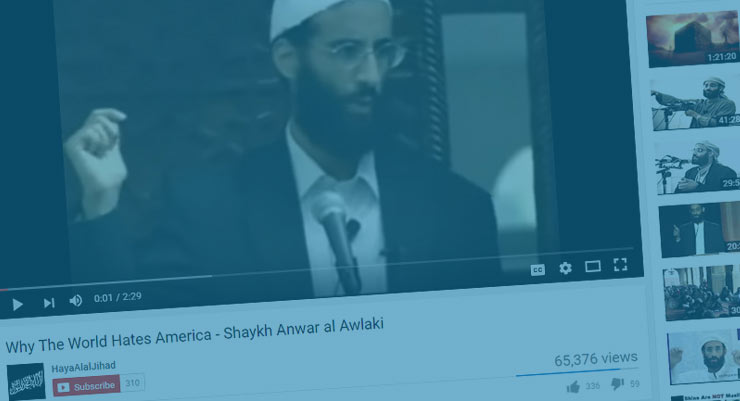 CEP was the first nongovernmental organization to formally call on social media companies, in particular Twitter, to take immediate action to stop extremists from weaponizing their networks. CEP's primary focus has been on Twitter due to its 'gateway' function into extremists' wider social media networks. Vulnerable individuals are initially exposed to extremist content and extremist recruiters on Twitter's easily accessible platform. Recruits are then invited to interact with jihadists on other message boards and private messaging platforms...
Daily Eye on Extremism
January 13, 2017
"Iraqi special forces pushed forward to reach a second bridge that links eastern Mosul to the city's west, which is still fully controlled by Islamic State, a military statement said on Friday. Troops further north meanwhile battled to try to seize the strategic Mosul University area, capture of which would help parallel advances towards bridges over the Tigris river, a Reuters correspondent nearby said. Elite counter-terrorism service (CTS) units reached the southern 2nd Bridge, also called Freedom Bridge, one of five running across the river that bisects Mosul from north to south, the military statement reported by state TV said. Iraqi forces have now reached two of the bridges, after fighting their way to the southernmost 4th Bridge several days ago."
Reuters: Iraqi Forces Reach A Second Mosul Bridge, Fight Near University, Military Says
"The convoy of vehicles was driving on a dirt road in northwestern Syria when the aerial attack by the U.S.-led coalition struck, turning the vehicles into balls of fire and the people inside into unrecognizable charred corpses. Among the eight dead was Khattab al-Qahtani, a senior al-Qaida official from the Persian Gulf region with reported ties to Osama bin Laden, as well as a Syrian al-Qaida commander from the country's east and a militant belonging to the Turkistan Islamic Party, a faction of Chinese jihadis fighting in Syria. The New Year's Day attack was the first in a wave of airstrikes that has targeted al-Qaida's affiliate in Syria at an unprecedented rate, killing more than 50 militants allied with the international terror group since the beginning of the year."
Associated Press: Surge In Targeted Killings Of Al-Qaida Operatives In Syria
"Violence and military operations claimed the lives of more than 16,000 civilians in Iraq last year, a research group said Thursday, making it one of the deadliest years for war-weary Iraqis since the 2003 U.S.-led invasion. In its annual report, the London-based Iraq Body Count reported that 16,361 Iraqi civilians died in 2016. The northern province of Nineveh was the worst hit, with 7,431 people killed. The capital, Baghdad, was next with 3,714 civilians killed, the research showed. Ninevah's capital, Mosul, fell to the Islamic State group in mid-2014 along with much of northern and western Iraq. Iraqi troops have since dislodged IS militants from major areas in a massive operation that started in mid-October."
Associated Press: More Than 16,000 Civilians Killed In Iraq In 2016
"The Obama administration tightened sanctions against the Syrian regime Thursdayin response to reports by international monitors that forces loyal to President Bashar Assad used chemical weapons in 2014 and 2015. 'We condemn in the strongest possible terms the Syrian regime's use of chemical weapons,' said Ned Price, a spokesman for the National Security Council. 'The Assad regime's barbaric continued attacks demonstrate its willingness to defy basic standards of human decency, its international obligations, and longstanding global norms.' A report last year by the United Nations and the Organization for the Prohibition of Chemical Weapons found that the Syrian regime used chlorine gas as a weapon on at least three different occasions in its bloody, six-year-old civil war."
USA Today: U.S. Sanctions Syria For Use Of Chemical Weapons
"Iraqi soldiers kicked in the gate of a home in eastern Mosul and emerged moments later with two young men whose hands they bound with plastic ties and dragged off toward black Humvees. The men, at least one suspected of belonging to Islamic State, denied ties to the militants who had been pushed out of the neighborhood a few days earlier. They were pale with fear as they knelt on the ground. Neighbors gathered around, most staring intently but saying nothing. One reaffirmed the accusations and another called one of the men's brothers 'a dog and the son of a dog'. The soldiers loaded the suspects into their vehicles and drove off. Moments earlier and just a few doors down, a middle-aged widower with a wrinkled face had pleaded with the soldiers' commander to avenge Islamic State's alleged murder of his brother, wife and son."
Reuters: In Mosul Areas Retaken From Islamic State, Loss And Fear Linger
"Members of one of the world's most persecuted religious groups, the Yazidis of northern Iraq, are struggling over whether to leave their ancestral homeland or rebuild their diminished and traumatized community outside the Middle East. Some Yazidi leaders oppose migration and are seeking foreign help to re-establish their community in Iraq's Sinjar region. Other Yazidi leaders support migration, and various western governments are welcoming them as refugees. Yazidi religious leaders are among those opposed to resettlement, fearing that being scattered will mean the end of their identity. Baba Chawish, the head of the Yazidi's Spiritual Council and guardian of their holiest site, Lalish, told FoxNews.com that they desperately need protection and help, emphasizing that most Yazidis want to be able to sleep in their own houses and own beds and that  if they have to leave Yazidis will 'vanish.'"
Fox News: Iraq's Yazidi Community Clings To Homeland Amid Genocide
"Israel was blamed for a series of major explosions were reported around a military airbase near the Syrian capital of Damascus early Friday morning. Syria's sate run news agency and local media outlets attributed the airstrikes on the al-Mazzeh airport to the Israel Defense Forces. The IDF, which doesn't comment on foreign reports of military operations, refused to confirm the reports. State news agency SANA said Israel had launched the missiles from Israeli-held territory north of the Sea of Galilee."
The Times Of Israel: Airbase Near Damascus Said Bombed By Israel
"He wanted to "live in a tent" with ISIS — but is facing federal lockup instead. An Arizona man accused of acting as a recruiter for ISIS told friends he wanted to live in squalor with the terrorists — and praised them for "forcibly" taking over cities in Iraq, it emerged at his Manhattan federal trial Thursday. "Allah is great. Mosul falls by the hands of the state," Ahem Mohammed el Gammal said after ISIS took over the Iraqi city in 2014. "No caliphate came by deliberation. All by the sword. It has to be taken like this," el Gammal told a pal on Facebook. "We will take it forcibly. Not peacefully."
New York Post: Man Faces Jail Time For Alleged ISIS Recruitment
"A delegation of Egyptian lawmakers and civil society representatives plans to arrive in Washington the day after President-elect Donald Trump's inauguration to lobby the new administration to take firm action against the Muslim Brotherhood. "We are in a war against this group and other radical political Islam movements, so it is important to exploit the new anti-radical Islam atmosphere in America to achieve our goal," the Al-Ahram daily quoted Tarek Radwan, deputy chairman of the Egyptian parliament's foreign affairs committee, as saying."
CNS News: Egyptian Delegation To Lobby Trump Administration For Action Against Muslim Brotherhood
"A self-declared prime minister said Thursday that his forces have seized at least three ministries in Libya's capital, declaring what appeared to be a miniature coup after what he described as a yearlong failure of the current U.N.-backed premier. Khalifa Ghwell told The Associated Press by phone from Tripoli that his forces control the ministries of defense, labor and the "martyrs and the wounded." His so-called National Salvation government was formed by the outgoing parliament after a disputed 2014 transfer of power that led to the establishment of rival governments, each backed by an array of militias."
Washington Post: Forces Loyal To Self-Declared PM Seize Libyan Ministries
"The French government is rolling back the policy allowing minors to travel abroad without their parents' permission, over concerns that more radicalized teenagers will head to warzones to join terrorist groups such as Islamic State. The measures will come into effect on January 15, and will mean French citizens aged under 18 who hope to travel abroad must carry a document signed by their parents. They will also need to carry their passports, as well as a scan of the ID of the parent who signed the permission. The step was added to existing legislation from June 5, 2016, and will help to prevent teenagers from fleeing to Iraq and Syria to join Islamic State (IS, formerly ISIS/ISIL), the law's supporters say."
RT: France Reintroduces Travel Restrictions For Minors Over ISIS Trips
"In the war on terror, guns and bombs just haven't been enough. So Cameroon is trying spells and curses too. About a year ago, Cameroonian President Paul Biya urged citizens to use witchcraft against Boko Haram, the Islamic State-affiliated militants who have terrorized West Africa for years. 'We expect every village to have brilliant actions in this direction,' said Midjiyawa Bakari, governor of the Far North region of the country, echoing the president. 'We want to hear that this or that village has wiped out or limited the sect's damage through witchcraft. Fight for your country.'"
USA Today: Cameroon Uses Witchcraft To Fight Boko Haram
"Authorities in Mali have arrested a man believed to be linked to an al Qaeda attack on a beach resort town in neighboring Ivory Coast that killed 19 people early last year, Malian security officials said on Thursday. Gunmen shot swimmers and sunbathers in the town of Grand Bassam, 40 km (25 miles) from the commercial capital Abidjan, last March before storming into several hotels. The suspect was arrested in the town of Gossi in northern Mali by French soldiers involved in a regional operation against Islamist militant groups and was then handed over to Malian authorities. Defence ministry spokesman Colonel Aboudoulaye Sidibe gave the suspect's name as Mimi Ould Baba Ould Cheick."
Reuters: Suspect In Ivory Coast Al Qaeda Attack Arrested In Mali
Daily Dose
Extremists: Their Words. Their Actions.
Unleash the fire of your anger on Turkish troops in Syria. Turkey today entered your range of action and the aim of your struggle... invade it and turn its safety into fear.
The Counter Extremism Project acts to shine a light of transparency and accountability on those persons, businesses and institutions that financially underpin the activities of extremist groups.
Learn More