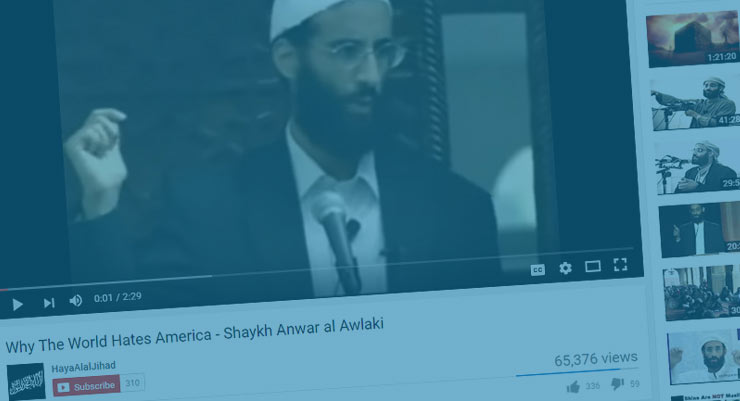 CEP was the first nongovernmental organization to formally call on social media companies, in particular Twitter, to take immediate action to stop extremists from weaponizing their networks. CEP's primary focus has been on Twitter due to its 'gateway' function into extremists' wider social media networks. Vulnerable individuals are initially exposed to extremist content and extremist recruiters on Twitter's easily accessible platform. Recruits are then invited to interact with jihadists on other message boards and private messaging platforms...
Daily Eye on Extremism
December 8, 2016
"The HBO aired segment highlights CEP's technology that can detect and remove extremist content from Internet and social media platforms, developed with Dartmouth College Computer Science Professor Dr. Hany Farid, the world's foremost expert on hashing technology. Dr. Farid is interviewed about the announcement by Facebook, Google, Microsoft and Twitter that they plan to collaborate in order to remove certain extremist content from their sites."
HBO Vice News Tonight: Technology
"The software that records the fingerprints comes from Dartmouth University computer scientist Hany Farid, who developed it with a grant provided by Microsoft and alongside the Counter Extremism Project or, CEP.  I think this is a good first step, said Farid. The thing I am concerned about, and that CEP is concerned about, is the lack of transparency and accountability in the system. We're going to do a joint coalition; what are they going to be looking for? How aggressively is it going to be done? How often are they updating the database?"
Defense One: The Flaw In Tech Giants' Plan To Fight Extremist Content
"Syria's government ignored a rebel cease-fire proposal for Aleppo on Wednesday as its forces captured new neighborhoods around the city center and squeezed some 200,000 tired and frightened civilians into a shattered and rapidly shrinking opposition enclave. The Syrian government and its ally Russia have rejected previous cease-fires for the war-torn city, keeping up the military offensive that has forced rebel retreats and displaced at least 30,000 civilians in the past 11 days, according to U.N. figures. U.S. Secretary of State John Kerry and Russian Foreign Minister Sergey Lavrov met Wednesday in Hamburg, Germany but did not release any statements."
Associated Press: Syrian Government Advances Despite Rebel Cease-Fire Offer
"A third soldier has died from wounds suffered in an apparent suicide bombing last month in Afghanistan, the Pentagon announced Wednesday. Sgt. 1st Class Allan E. Brown, 46, of Takoma Park, Md., died Tuesday at Walter Reed National Medical Center in Bethesda, the Defense Department said. Brown was assigned to Headquarters and Headquarters Company, 1st Special Troops Battalion, 1st Sustainment Brigade, 1st Cavalry Division stationed at Fort Hood, Texas. The bombing happened at Bagram Air Field on Nov. 12. It was the first suicide bombing inside the walls of the heavily guarded base since U.S. forces entered Afghanistan in 2001."
The Hill: Third US Soldier Dies From Nov. Suicide Bombing In Afghanistan
"Syrian state media say an Israeli missile strike has targeted a military airport on the outskirts of Damascus. The attack in Mezzeh is reported to have caused fires, but no casualties. The Israeli military has made no comment, but it is the second time in a week that it is alleged to have carried out a strike on Syrian territory. It is thought to have bombed weapons shipments intended for Lebanon's Hezbollah movement several times since Syria's civil war began in 2011. Hezbollah, which fought a month-long war with Israel in 2006, has sent thousands of fighters to Syria to support President Bashar al-Assad's forces."
BBC: Syria Conflict: 'Israel Missiles' Hit Damascus Military Airport
"Around a third of the estimated 5,000 European jihadists who went to Syria and Iraq have returned to Europe, and some may have orders to attack, an EU report warned Wednesday. Up to 2,500 fighters from Europe remained on the battlefield but their massive return in the short term seemed unlikely, according to the report seen by AFP. Belgium expressed concern last month that jihadists were increasingly returning to Europe as US-backed coalition forces drive the Islamic State (IS) group from territory in Syria and Iraq."
Daily Mail: Around 1,500 European Jihadists Return From Mideast: Report
"Afghan and American officials are increasingly worried that any deepening of ties between Russia and Taliban militants fighting to topple the government in Kabul could complicate an already precarious security situation. Russian officials have denied they provide aid to the insurgents, who are contesting large swathes of territory and inflicting heavy casualties, and say their limited contacts are aimed at bringing the Taliban to the negotiating table. Leaders in Kabul say Russian support for the Afghan Taliban appears to be mostly political so far."
Newsweek: Does Vladimir Putin Have Plans For The Taliban In Afghanistan?
"Libyan militias backed by American airstrikes said they have cleared the stronghold of the Islamic State in Libya, a defeat that would set back the group's ambitions in North Africa. The country, however, remains very unstable amid battles between rival militias, and the remaining militants could still undermine a fragile U.S.-backed unity government, analysts say. Libyan fighters erupted in celebration in the coastal city of Sirte on Tuesday after a nearly seven-month struggle to oust the Islamic State, as the mostly pro-government forces were searching for any remaining militants."
The Washington Post: Islamic State Loses Its Stronghold In Libya, But More Chaos Could Soon Follow
"In the early days of the assault on Islamic State in Mosul, Iran successfully pressed Iraq to change its battle plan and seal off the city, an intervention which has since shaped the tortuous course of the conflict, sources briefed on the plan say. The original campaign strategy called for Iraqi forces to close in around Mosul in a horseshoe formation, blocking three fronts but leaving open the fourth - to the west of the city leading to Islamic State territory in neighboring Syria. That model, used to recapture several Iraqi cities from the ultra-hardline militants in the last two years, would have left fighters and civilians a clear route of escape and could have made the Mosul battle quicker and simpler."
Reuters: How Iran Closed The Mosul 'Horseshoe' And Changed Iraq War
"The U.N.'s envoy for Central Africa says a multinational regional force has reclaimed much of the territory controlled by Boko Haram in the Lake Chad Basin but the extremist group remains a serious threat to regional stability. Francois Lounceny Fall told the Security Council on Wednesday that Boko Haram's ability to cause mayhem should not be under estimated. He said the countries of Lake Chad Basin continued to fund the regional force, but a lack of money was hampering its efforts operationally and in terms of providing support to the large number of people displaced by Boko Haram — whose fighters are also hindering humanitarian access."
Fox News: UN: Boko Haram Remains A Threat Even As They Lose Territory
Daily Dose
Extremists: Their Words. Their Actions.
Know that if the sky collapses onto the earth, God will make room for the believers to breathe.
The Counter Extremism Project acts to shine a light of transparency and accountability on those persons, businesses and institutions that financially underpin the activities of extremist groups.
Learn More