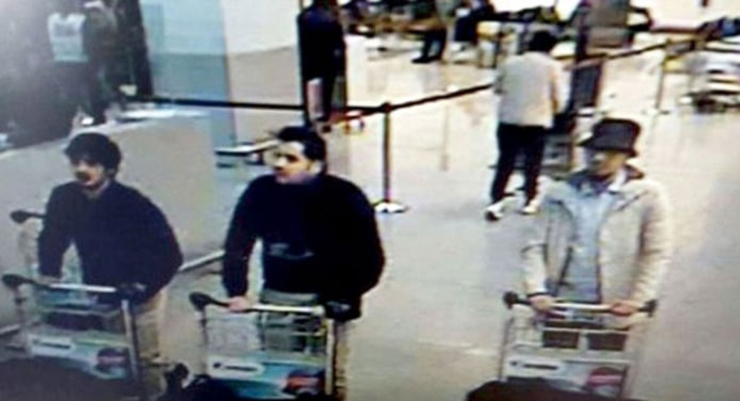 Laachraoui is believed to be the primary bomb-maker in the March 22, 2016, attacks in Belgium, in which terrorists targeted both Zaventem airport and Maelbeek metro station. The three explosions killed at least 31 people and wounded 270. Laachraoui was one of the airport suicide bombers. The other was Ibrahim el-Bakraoui. A third remains unidentified. Ibrahim's brother Khalid detonated the bomb at Maelbeek. Laachraoui's DNA was found on several suicide belts used by ISIS assailants during the Paris attacks that killed 130 and wounded 350...
Daily Eye on Extremism
May 27, 2016
"The Pentagon on Thursday said U.S. special operations forces in Syria are not taking a front-line role in the fight against the Islamic State in Iraq and Syria (ISIS), despite recent photos that suggest otherwise. 'They are not on the forward line,' said Pentagon press secretary Peter Cook. Cook acknowledged there was no 'specific measurement' for what the 'forward line' is.  'But I think, again, our forces in Iraq and Syria, their instructions, their mission is clear that they are not at that leading edge. They're able to defend themselves, but they have to be in a position to be able to provide the kind of advice and assistance needed to help these forces, these local forces succeed,' he said. Earlier on Thursday, Agence France-Presse distributed photos showing fully armed U.S. forces in Syria riding in the back of an armed truck known as a 'technical.'"
The Hill: Pentagon Denies US Special Operations Forces On Front Lines In Syria
"Iraqi security forces and supporting militias have retaken the key town of Karma from ISIS,the government's first significant victory in its push to reclaim Falluja, a spokesman for Iraq's Joint Operations Command said Thursday. The recapture of Karma, about 16 kilometers (10 miles) northeast of Falluja, brings most of the territory east of Falluja under government control. Iraqi government troops, backed by Shiite militias known as the Popular Mobilization Units and an air campaign by the U.S.-led anti-ISIS coalition, launched an offensive Monday to retake Falluja, about 65 kilometers (40 miles) west of Baghdad. It remains, along with Mosul, one of the last two Iraqi cities under the Sunni terror group's control. Prime Minister Haider al-Abadi posted a statement on Facebook congratulating the people of Iraq on the 'liberation of al-Karma' and ordered security forces to protect civilians there."
CNN: Iraqi Troops Retake Key Town From ISIS In Falluja Offensive
"At the closest point they can reach to the Islamic State heartlands, the Kurdish Peshmerga can almost feel their enemy. Most days Isis fighters fire mortars or bullets at their frontline, 10 miles south of Sinjar, sometimes crawling through long grass for hours until they are close enough to shoot. Several miles further south, some of Isis's most senior leaders regularly gather in the grey concrete villages of the terror group's northern vanguard, which for more than a decade had been the safest corners of Iraq for them to come and go. Moving among the nearby towns of Ba'ej and Billij, according to the Kurds watching from the ground, and intelligence officials keeping tabs from other vantage points, is the world's most wanted man, Abu Bakr al-Baghdadi."
The Guardian: Inside The Hunt For Isis Leader Abu Bakr al-Baghdadi
"U.S. officials are warning of Islamic State's ability to inspire violent deeds around the world, including in the United States, without commanding or having any direct contact with terrorists. 'We are in a new phase of the global terrorist threat,' Homeland Security Deputy Secretary Alejandro Mayorkas told a U.S. Senate panel Thursday. 'We have moved from a world of terrorist-directed attacks to a world that increasingly includes the threat of terrorist-inspired attacks, one in which the attacker may never have come face to face with a member of a terrorist organization, but instead is inspired by the messages and propaganda of ISIL,' Mayorkas said, using an acronym for the Islamic State group."
Voice Of America: Islamic State's Ability To Inspire Violence Worries US Officials
"A suspected Belgian Islamist group raided on Wednesday had potential attack targets in Belgium's second city of Antwerp including the main railway station, a source close to the investigation said on Thursday. Belgian police searched eight homes on Wednesday, mostly in the port city, and detained four teenagers who were charged with participation in the activities of a terrorist organization. Those detained are suspected of seeking to recruit people to travel to Syria or Libya. Some are also suspected of planning to join Islamic State there themselves. Belgian newspaper Nieuwsblad said the group members were in direct contact with a prominent Belgian militant in Islamic State's de facto capital Raqqa in Syria. The group received orders from Hicham Chaib, also known as Abu Hanifa al-Baljiki (The Belgian), the newspaper said. Chaib, who grew up in an Antwerp suburb, has been seen in an Islamic State video taunting his own country."
Reuters: Raided Belgian Cell Had Possible Targets In Second City Antwerp
"Airbus has detected signals from the Mediterranean Sea where EgyptAir Flight 804 crashed last week, Egypt's state-run Al Ahram news agency reported Thursday. The signals were emitted by the plane's emergency locator transmitter, a device that can manually or automatically activate at impact and will usually send a distress signal. The signals from the emergency locator transmitter are different from the pings emitted by the 'black boxes.' Having these signals narrows down the area that the multinational search team has been focusing on -- which a few days ago was described as 'about the size of Connecticut.' It dramatically decreases the search area to a 5-kilometer (3.1-mile) radius, giving investigators a more specific location to detect pings from the black boxes. The missing EgyptAir plane, which had 66 people on board, was an Airbus A320 heading from Paris to Cairo."
CNN: Report: Signals Detected From Egyptair Flight 804 In Mediterranean
"The Afghan government is looking warily at the conservative religious scholar who has assumed leadership of the Taliban, seeing in him a rigid proponent of hardline orthodoxy who is unlikely to favor peace talks, officials said. A day after the Afghan Taliban announced that Haibadullah Akhundzada would take over after Mullah Akhtar Mansour was killed in a U.S. drone strike in Pakistan, officials on Thursday were trying to form a picture of a leader best known for relentlessly applying strict sharia, or Islamic law. In his former role as one of the Taliban insurgency's senior judges, he was responsible for issuing a series of death sentences against opponents of Mansour, according to General Abdul Razeq, police chief of Akhundzada's home city of Kandahar. Officials said he appeared to favor a return to the austere and often harsh Islamic rule in Afghanistan before the Taliban were ousted by U.S.-led forces in 2001, something that would be unacceptable to the Afghan government and its Western backers."
Reuters: Afghanistan Sees Taliban Leader As Rigid Conservative Uninterested In Peace
"Al Qaeda may have been pushed out of the enclave it carved out in Yemen as the country descended into civil war, but the militants are still entrenched in other parts of the country's south, reaping profits from smuggled fuel. Scores of militants were killed in a Gulf Arab-backed offensive on Al Qaeda's de facto capital of Mukalla, Yemen's third largest seaport, but hundreds fled to neighbouring Shabwa province and beyond. A month later, al Qaeda in the Arabian Peninsula (AQAP) is thriving by joining diverse armed groups in taxing fuel delivered illicitly to remote beaches along the Arabian Sea coast, security, tribal and shipping sources say. Home to Yemen's largest industrial project, a now-shut liquefied natural gas export facility at Belhaf, Shabwa is divided among al Qaeda, government troops loyal to President Abd-Rabbu Mansour Hadi, Houthi forces and armed tribes."
Reuters: Al Qaeda Still Reaping Oil Profits In Yemen Despite Battlefield Reverses
"When Amina Ali Nkeki came home last week—the first of Nigeria's 219 missing schoolgirls to go free in nearly two years—she found a town making its own long walk back to normalcy.The neighborhoods outside her boarding school—where Islamist insurgency Boko Haram seized the schoolgirls in 2014—were virtually abandoned in the months that followed, as the name Chibok reverberated through the White House and across the world's media. Dozens of residents who remained slept in caves, terrorized by jihadist leaflets promising further attacks. In the countryside, within walking distance, Boko Haram looted and torched villages. Now, the caves are empty and the zinc-roofed houses of this mountainside town are full again. Business is back at the central market where Ms. Nkeki's rescuers triumphantly brought her on May 18, drawing crowds around the vegetable stands a female suicide bomber destroyed this year."
The Wall Street Journal: Nigerian Schoolgirl's Return Spotlights A Town Making Its Own Comeback
"A Tel Aviv startup called Faception has developed technology that purportedly can identify character traits, including spotting who might be a terrorist, by analyzing a person's face. The startup, founded in 2014, and which presented its technology at a high-tech accelerator conference in Mountain View, California, last week sponsored by the venture capital fund 500 Startups, claims 80 percent accuracy in identifying character traits based on analysis of photographs of faces. It has already signed up a homeland agency to help spot terrorists, according to company CEO Shai Gilboa. The technology is geared to identify a range of specific traits, beyond spotting terrorists, including, for example, identifying extroverts, people with high IQs and even professional poker players."
Haaretz: Israeli Startup Claims To Spot Terrorists With Facial Recognition
Daily Dose
Extremists: Their Words. Their Actions.
Fact:
ISIS's manifesto on women states, "It is considered legitimate for a girl to be married at the age of nine. Most pure girls will be married by sixteen or seventeen, while they are still young and active."
The Counter Extremism Project acts to shine a light of transparency and accountability on those persons, businesses and institutions that financially underpin the activities of extremist groups.
Learn More