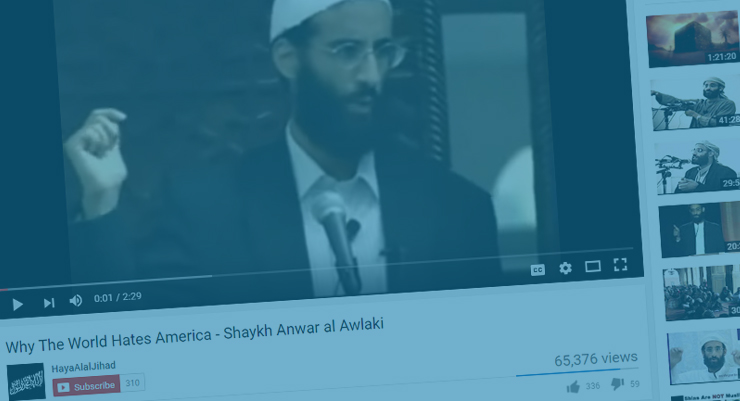 CEP was the first nongovernmental organization to formally call on social media companies, in particular Twitter, to take immediate action to stop extremists from weaponizing their networks. CEP's primary focus has been on Twitter due to its 'gateway' function into extremists' wider social media networks. Vulnerable individuals are initially exposed to extremist content and extremist recruiters on Twitter's easily accessible platform. Recruits are then invited to interact with jihadists on other message boards and private messaging platforms...
Daily Eye on Extremism
June 24, 2016
"Dr. Hany Farid recently teamed up with the Counter Extremism Project to develop new technology to help Internet companies detect terrorist images and videos and remove them."
MSNBC: New Technology Fights Online Extremism
"An earlier version of the technology, called 'PhotoDNA', has already been successfully deployed to remove child pornography from social-media sites but is able to create hashes only for photographs. Working with the Counter Extremism Project (CEP), a non-profit organisation, Dr Farid has been able to extend robust hashing to video and audio files. Dr Farid has not published his work. The reason for that is he fears it would help people to try to circumvent the technology or allow repressive regimes to use it to suppress dissent. Instead, he and the CEP hope to set up the National Office for Reporting Extremism (NORex). This body would help maintain a database of extremist imagery and assign robust hashes to the most brutal or dangerous."
The Economist: Halting The Hate
"The web has become one of the most powerful tools today used by terrorist networks like the Islamic State, or ISIS. Two researchers — physicist Neil Johnson and computer scientist Hany Farid — are among the many to come out with new technologies aimed at understanding and stopping terrorists using the internet. Johnson, with the University of Miami, has used an algorithm to analyze how ISIS and their sympathizers interact digitally. Farid, with Dartmouth College and the nonpartisan policy group Counter Extremism Project, created a way to make it easier to scrub terrorist propaganda from the web. They join
Here & Now's Robin Young to talk about their work."
WBUR: Using New Technologies To Fight ISIS Online
"Hany Farid, a computer scientist at Dartmouth College, has developed a software algorithm that he claims will allow platforms like Facebook and Twitter to identify content created by the Islamic State and similar extremist groups and their supporters—and automatically eliminate them from their sites. The software, unveiled last week, is modeled off a successful child-porn detection technology that Farid created several years ago, and which some social media companies already use. Farid told Vocativ that his new algorithm has been tested 'extensively' and is in its final stages. He has teamed up with the Counter Extremist Project (CEP), a non-profit think thank, to create a database of extremist content online that Farid's technology can then identify and remove from social media platforms."
Vocativ: This Algorithm Could Wipe Out ISIS Propaganda Online
Tara Maller of The Counter Extremism Project discusses a new initiative to detect and block online terror recruitment.
Yahoo News Feature: Tara Maller, Fight Extremism
"Americans are more likely to think terrorist attacks in the U.S. are imminent now than at any point since 2003, according to a CNN/ORC Poll conducted after a shooting in Orlando that ranks as the worst terrorist attack on U.S. soil since 9/11. Overall, 71% say further acts of terrorism are very or somewhat likely in the United States over the next several weeks. Americans' concerns about domestic terror are more focused on so-called 'lone-wolf' attacks carried out by individuals who say they have been inspired by a terrorist group rather than attacks organized and supported by terrorist groups themselves."
CNN: Poll: Concern About Terrorist Attack At Highest Level Since 2003
"In the midst of the brutal assault inside Orlando's Pulse nightclub, security cameras captured Omar Mateen, a powerful assault rifle perched at hip level, firing indiscriminately into crowds of patrons, a federal law enforcement official said Thursday. The official, who has viewed a compilation of video clips, said some victims can be seen falling to the floor, while other patrons appear frozen or possibly confused by the frenzy unfolding around them. At some points, the 29-year-old gunman also can be seen firing at victims who have already fallen, said the official, who is not authorized to comment publicly. The disclosures offer an increasingly chilling account of the massacre, building on the release earlier this week of partial transcripts of Mateen's telephone contacts with police dispatchers and crisis negotiators while holed up in a bathroom after the initial attack."
USA Today: Official Describes Chilling Video Of Orlando Nightclub Attack
"A US-backed alliance of Kurdish and Arab fighters has reportedly advanced into a strategically important Syrian town held by so-called Islamic State. The Syrian Observatory for Human Rights said there were heavy clashes between the Syrian Democratic Forces and IS militants on the outskirts of Manbij. The SDF began an offensive to take the town on 31 May, quickly encircling it. Manbij sits on an intersection of roads linking the IS stronghold of Raqqa to the Turkish border and Aleppo province."
BBC: Syria Conflict: US-Backed Forces 'Enter IS-Held Manbij'
"The FBI is investigating a young man from the Flint area for supporting ISIS and working as a doctor for the terror group. Mohamed Maleeh Masha, 24, of Flushing, is at the center of a terror investigation as an alleged ISIS sympathizer. Flushing is northwest of Flint. The Detroit News found a sealed FBI search warrant posted online showing that agents were tracking Masha from his family's home in Flushing to Syrai. The warrant was taken down soon after that."
Click On Detroit: FBI Hunts ISIS Doctor From Mid-Michigan
"Iranian recruitment of Afghan citizens for the Syrian battlefield is depriving the Afghan National Security Forces potential recruits to fuel the war against the Taliban, NATO officials told the Stars and Stripes. The practice fulfills two Iranian strategic priorities, it provides valuable soldiers to the Assad regime on the Syrian battlefield and it prolongs NATO involvement in Afghanistan. NATO is committed to supporting the Afghan defense forces against the Taliban, and has pledged to keep giving them billions of dollars until 2020. Iran has been heavily recruiting from the western province of Herat, which reportedly has some of the lowest Afghan defense recruitment numbers in the entire country. 'If Afghanistan recruiting command can't keep pace, that's a problem,' U.S. Army Colonel Steve Lutsky told Stars and Stripes."
Daily Caller: Iranian Money Could Be Behind The Taliban's Big Gains In Afghanistan
"Nearly 200 refugees fleeing Boko Haram militants have starved to death over the past month in Bama, Nigeria, the medical charity MSF says. A 'catastrophic humanitarian emergency' is unfolding at a camp it visited where 24,000 people have taken refuge. Many inhabitants are traumatised and one in five children is suffering from acute malnutrition, MSF says. The Islamist group's seven-year rebellion has left 20,000 people dead and more than two million displaced. Nigeria's military has carried out a large-scale offensive against them but Boko Haram still attacks villages in the north-east, destroying homes and burning down wells."
BBC: Nigeria Boko Haram: Scores Of Refugees Starved To Death – MSF
"Witnesses say that al-Qaida fighters have been seen in southern Yemeni cities, nearly a month after the militants withdrew from the towns following tribal-led negotiations. Local residents reported Thursday that al-Qaida militants were seen in the cities of Jaar and Zinjibar, the provincial capital of Abyan province. They say that during the day fighters can be seen driving pickup trucks mounted with anti-aircraft guns, but at night they retreat to hideouts. The residents spoke on condition of anonymity for fear of reprisal. Al-Qaida and Islamic State group militants have exploited the security and power vacuum after rebels known as the Houthis seized the Yemeni capital in 2014 and the president fled to Saudi Arabia. The militants withdrew this spring under pressure from a Saudi-led coalition that is fighting the Houthis."
Associated Press: Residents Say Al-Qaida Has Returned To Southern Yemen Cities
"A Turkish man has been found guilty of insulting President Recep Tayyip Erdogan for depicting him as the Gollum character from the Lord of the Rings. A court in the south-western Antalya province gave Rifat Cetin a suspended one-year jail sentence and stripped him of parental custody rights. He has insisted his images, comparing Mr Erdogan with the grotesque-looking Gollum in 2014, were harmless. But on Thursday, the court in Antalya sentenced Cetin to a year in prison, suspended for five years. Article 299 of the Turkish penal code states that anybody who insults Turkey's president can face a prison term of up to four years."
BBC: Turkey Guilty Verdict For Depicting Erdogan As Gollum
Daily Dose
Extremists: Their Words. Their Actions.
Praise be to God, and prayers as well as peace be upon the prophet of God. I let you know, I'm in Orlando and I did the shootings.
The Counter Extremism Project acts to shine a light of transparency and accountability on those persons, businesses and institutions that financially underpin the activities of extremist groups.
Learn More