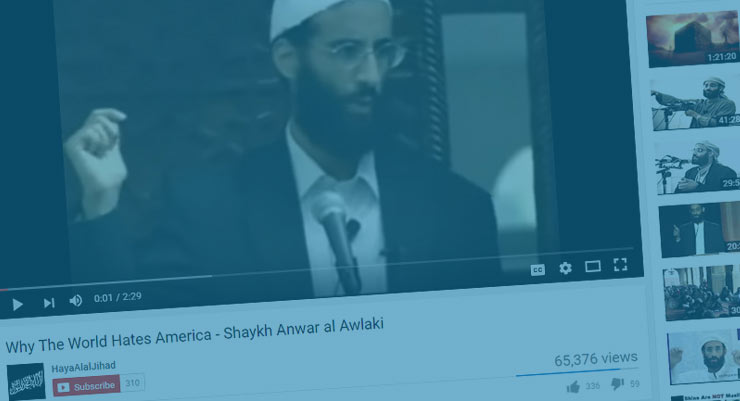 CEP was the first nongovernmental organization to formally call on social media companies, in particular Twitter, to take immediate action to stop extremists from weaponizing their networks. CEP's primary focus has been on Twitter due to its 'gateway' function into extremists' wider social media networks. Vulnerable individuals are initially exposed to extremist content and extremist recruiters on Twitter's easily accessible platform. Recruits are then invited to interact with jihadists on other message boards and private messaging platforms...
Daily Eye on Extremism
December 2, 2016
"The former New York city police commissioner is joining the advisory board of the Counter Extremism Project, a not-for-profit, nonpartisan organization formed to combat the growing threat from exremist ideology, a spokesman told POLITICO New York. "In order to stop extremism, all stakeholders, including law enforcement, elected leaders, the private sector and NGO's, must work together to develop effective solutions," Kelly said in a statement. "The Counter Extremism Project has been at the forefront of this significant effort and I am proud to lend my support to the organization."
Politico: Ray Kelly's New role
"Online Jihadi activity is not the sole purview of Anwar al-Awlaki...whether it be ISIS or Al Qaeda, or any other goofy-sounding 'martyrs brigade' with the word 'Jihad' or 'Islamic' in it, every internet platform has been polluted for recruitment and incitement, martyrdom and glorification of attacks, and the exposition of violent attacks to create terror fear and admiration for terrorism.The Counter Extremism Project (CEP) - headed by former Amb. Mark Wallace - has supported the development of 'eGlyph' technology, software developed by Dr. Harry Farid of Dartmouth College - which uses "robust hashing" across all social media platforms to analyze images, videos and audio, to flag - very quickly and accurately - radical Islamic extremist content."
The Huffington Post: Taking The Fight To ISIS From The Homeland
"Describing the battle to defeat ISIS in Mosul as 'very dangerous fighting,' Col. John Dorrian, U.S. spokesman for Operation Inherent Resolve, told Fox News he estimates 20 percent of Mosul has been freed of the militants so far, after more than six weeks of tough fighting by Iraqi forces backed by U.S. airstrikes and support on the ground. 'The Iraqi forces are working very hard to get this done,' Dorrian told Fox News via Skype from Baghdad, 'but they are up against a fanatical enemy.' Making things more complicated: the million-plus residents of Mosul said to have stayed in the city when the fighting began. Officials this week said some 650,000 residents no longer had access to clean drinking water."
Fox News: Long Way To Go: One-Fifth Of Mosul Freed From ISIS Control, US Military Says
"Menacing black smoke hangs over the town of al-Qayyara. The air here is poison. Children with blackened hands and soot-stained faces play beneath the toxic plumes. The early afternoon sun is so eclipsed by the haze that day seems like endless twilight. The dark filth coating the landscape and choking residents' lungs comes from oil wells sabotaged and set alight by ISIS in August. Engineers and firefighters have been battling the flames for 100 days now. When CNN first visited al-Qayyara back in early October, they had tackled six fires with nine to go. But the real extent of the damage had yet to be determined."
CNN: ISIS' Toxic Legacy: Iraqis Battle The Blazing Oil Wells Suffocating Residents
"In early June, two Iranian-backed Shi'ite militias under the nominal control of the Iraqi government stormed into an Iraqi military airbase north of Baghdad. Driving armored vehicles and wielding rocket launchers, they took over a building on the base. The Iraqi commander at the base, near the town of Balad, asked the militiamen to leave. But the men ignored him as well as orders from the central government in Baghdad, according to two army officers in the Salahuddin Operation Command, the regional military headquarters. The June standoff grounded four Iraqi F-16 fighter jets and pushed more than a dozen U.S. contractors – there to help local pilots bomb Islamic State militants – to flee, according to the army officers and an Iraqi military intelligence source."
Reuters: Iraq's Shi'ite Militias Could Prove Bigger Test Than Mosul
"Rebel groups in Syria's war-ravaged Aleppo put up a united front on Thursday in a final effort to prevent regime forces from seizing the whole city. Rebels in eastern Aleppo have held ground in the Sheikh Saeed neighborhood as they continue to clash with regime troops, in an attempt to protect the southern parts of the enclave south after Syrian forces made sweeping territorial gains in the north. Syrian troops backed by militia gunmen loyal to President Bashar al-Assad entered eastern Aleppo on Saturday and have seized the entire northeast. They are now in control of more than 20% of eastern Aleppo."
CNN: Aleppo Rebels Band Together As Syrian Regime Tears Through City
"Islamic state has told its members to stop using internet-based communication apps like WhatsApp and Telegram on smartphones, suspecting they are being used by the U.S.-led coalition to track and kill its commanders. Until recently, the hardline group used such apps to chat with members and supporters outside its main areas of control in Syria, Iraq and Libya -- including, say French officials, the assailants who staged attacks across Paris a year ago, killing at least 130 people. A U.S.-led military coalition has been bombing Islamic State positions since 2014, when the group proclaimed a caliphate in Syria and Iraq. Twenty commanders of the group were killed this year, including spokesman Abu Muhammad Al-Adnani."
Reuters: Islamic State Tells Supporters To Quit Messaging Apps For Fear Of U.S. Bombs
"Mr. Artan, who had been in the United States for just two years, seemed to be a success story in this city's large network of Somali refugees, excelling in his classes at Columbus State Community College and getting accepted as a transfer student to nearby Ohio State University. But the image of a jubilant graduate in a cap and gown conflicted sharply with Mr. Artan's actions on Monday, when the police say he rammed a car into pedestrians on a sidewalk at Ohio State before jumping out and stabbing people with a butcher knife."
The New York Times: From Somalia To U.S.: Ohio State Attacker's Path To Violence
"A Kenyan prosecutor has charged two Iranian men with collecting information to carry out a terrorist attack after they were allegedly found with video footage of the Israeli embassy. State Prosecutor Duncan Ondimu said in court on Thursday that Sayed Nasrollah Ebrahim and Abdolhosein Gholi Safaee were arrested Tuesday in an Iranian diplomatic car while taking the pictures of the Israeli mission using a mobile phone, including when they were intercepted. They were detained in the capital, Nairobi after they had come from visiting Kamiti Prison where they saw two other Iranians who have been jailed for 15 years on terrorism charges."
The Times Of Israel: 2 Iranians Charged With Plan To Attack Israeli Embassy In Kenya
"Europol, the European Union police agency, said Friday that Islamic State attackers have shifted focus to softer, more-random targets in Europe instead of the police or military in an effort to intimidate the public. The militant group retains the will and capability to stage attacks in Europe in the near future, according to a report by Europol's European Counter Terrorism Centre. While attackers will continue to use guns, bombs, knives and vehicles, terrorism techniques used in Syria and Iraq, such as car bombs, could also be imported to Europe, the report said. The EU faces threats from both networked groups and lone-wolf attackers, and is prone to attacks that are carefully planned as well as those that appear spontaneous, according to the report."
The Wall Street Journal: Islamic State Shifts Focus To Softer Targets In Europe, Europol Says
"President-elect Donald Trump's priorities are clearly in domestic policy.  His slogan of "America First" was not meant to harken back to the Thirties and reflect a neo-isolationism, but instead to signal his focus on rebuilding the United States.  His one priority internationally is to "destroy Isil." That is understandable. But to do this, he needs the Sunni Arab states and tribes to help defeat it, replace it on the ground, and discredit it. Without them, defeating Isil in Mosul and removing it from Raqqa, its capital in Syria, may prove to be pyrrhic victories. Unless Sunnis are part of the reconstruction and governance in the aftermath of military victories, we may recreate the very circumstances of Sunni exclusion (and oppression) in Iraq and Syria that produced Isil in the first place."
The Daily Telegraph: Donald Trump Must Keep Sunni Allies Onside And Shun Iran To Show He Is Serious About ISIL
"What is it like to stare into the face of evil? James E. Mitchell knows. In his gripping new memoir, "Enhanced Interrogation: Inside the Minds and Motives of the Islamic Terrorists Trying To Destroy America," Mitchell describes the day he was questioning Khalid Sheik Mohammed, when the 9/11 mastermind announced he had something important to say. "KSM then launched into a gory and detailed description of how he beheaded Wall Street Journal reporter Daniel Pearl," Mitchell writes. Up to that moment, the CIA did not know KSM had personally carried out the murder. When asked whether it was "hard to do" (meaning emotionally difficult), KSM misunderstood the question. "Oh, no, no problem," KSM said, "I had very sharp knives. Just like slaughtering sheep."
Washington Post: A Horrifying Look Into The Mind Of 9/11's Mastermind, In His Own Words
"The United Nations believes as many as 75,000 people could die in north-eastern Nigeria in the next 12 months unless there is a renewed contribution from the international community. Already close to five million people need food assistance. There are predictions of a major famine, mainly due to the insecurity brought about by the Islamic extremist group Boko Haram. The jihadist group claims to have established a caliphate in West Africa. It regularly carries out suicide bombings, kidnappings and merciless assaults on entire villages."
ABC News: Major Famine Imminent In Nigeria As Boko Haram Attacks Cripple Economy
Daily Dose
Extremists: Their Words. Their Actions.
Fact:
ISIS taught its child soldiers that if they were martyred, they would 'go to paradise and many angel women' would be waiting.
The Counter Extremism Project acts to shine a light of transparency and accountability on those persons, businesses and institutions that financially underpin the activities of extremist groups.
Learn More