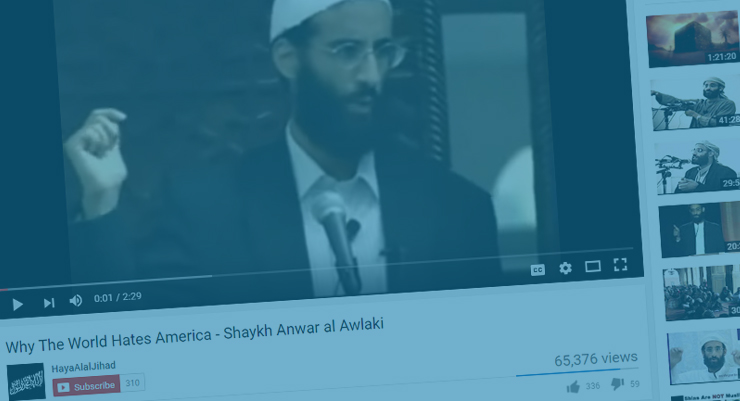 CEP was the first nongovernmental organization to formally call on social media companies, in particular Twitter, to take immediate action to stop extremists from weaponizing their networks. CEP's primary focus has been on Twitter due to its 'gateway' function into extremists' wider social media networks. Vulnerable individuals are initially exposed to extremist content and extremist recruiters on Twitter's easily accessible platform. Recruits are then invited to interact with jihadists on other message boards and private messaging platforms...
Daily Eye on Extremism
August 31, 2016
"Hany Farid is the chair of Dartmouth's Computer Science department and is a senior advisor to the Counter Extremism Project. He developed PhotoDNA a system used to detect child pornography online and stop it from spreading. Earlier this summer similar software was in development to flag terrorist propaganda online."
New Hampshire Public Radio: Blocking Terrorist Propaganda
"The Counter Extremism Project lists Adnani as the leader of ISIS's Emni group, a unit that orchestrates attacks outside of the Middle East. The U.S. State Department named him a terrorist in 2014 and later described him as 'the main conduit for the dissemination of ISIL messages.' 'Adnani is much more than just the mouthpiece of this group,' Thomas Joscelyn, a senior fellow at the Foundation for Defense of Democracies, told the New York Times earlier this month. 'He is heavily involved in external operations. He is sort of the administrative 'yea' or 'nay' at the top of the pyramid.'"
International Business Times: Who Is Abu Mohammad al-Adnani? ISIS Spokesman Reportedly Killed In Syria
"Officially, the 39-year-old Taha Subhi Falaha, better known as Abu Mohammed al-Adnani, was spokesman for the so-called Islamic State: a vitriolic but compelling rhetorician for the caliphate whose imprecations—against America, the Shia, insufficiently pious Muslims and eventually al-Qaeda—earned him the nickname "attack dog." Now he's a dead one, according to the organization he served. In a statement, the ISIS propaganda agency Amaq said he was "martyred while surveying the operations to repel the military campaigns in Aleppo," in Syria."
The Daily Beast: ISIS Attack Dog Reportedly Dead
"The United States on Tuesday offered a reward of up to $3 million for information about a former Tajik special operations colonel whom it trained in counter-terrorism before he joined the Islamic State militant group. The U.S. State Department announced the reward for Gulmurod Khalimov in a statement that made no mention of his training, which included attending five U.S.-funded courses in the United States and Tajikistan between 2003 and 2014, said a U.S. State Department official who spoke on condition of anonymity. The statement described Khalimov as 'a key leader' of the Islamic State militant group, also known as ISIL and ISIS, that has seized parts of Syria and Iran and staged or inspired attacks around the world."
Reuters: U.S. Offers $3 Million Reward For Man It Gave Anti-Terror Training
"A top US general said Tuesday that ISIS fighters defied their leader's orders to fight to the death in a recent battle, instead retreating to the north. Gen. Joseph Votel, the commander of US forces in the Middle East, said that the refusal to follow orders occurred during the battle for the recently liberated town of Manbij, Syria. ISIS leader Abu Bakr Al-Bagdadi told fighters in Manbij 'to fight to the death' and 'they didn't follow his direction,' according to Votel, questioning how much command and control ISIS leadership has over its forces. Still, he said that ISIS, also know as ISIL, has a 'strong network' that relies on 'guidance from centralized leadership.'"
CNN: US General: ISIS Forces Defied Orders To Fight To The Death
"The air base that Iraqi forces hope to use as a staging area to take Mosul back from the Islamic State group was almost completely destroyed by the retreating militants, raising new doubts over whether the long-awaited operation will begin this year. Iraqi forces seized the Qayara air base south of Mosul in July, in what U.S. and Iraqi officials said was a major step toward the eventual liberation of the country's second largest city, which fell to IS in 2014. Prime Minister Haider al-Abadi called on Mosul residents 'to get ready for the liberation of their areas.' But Iraqi army commanders stationed at the base say it will take months of reconstruction before it is ready to receive cargo planes and house the tens of thousands of troops needed for the march on Mosul. Their assessments call into question whether Iraq will be able to launch the operation this year, as the prime minister has repeatedly pledged."
Associated Press: IS Destruction Of Iraqi Base Could Hinder Mosul Operation
"U.S. air strikes in Afghanistan have killed four commanders of the Haqqani network, a militant group affiliated with the Taliban, as government forces try to retake a district captured by insurgents last week, Afghan officials said on Tuesday. Naqeeb Ahmad Atal, a spokesman for the governor of Paktia province in eastern Afghanistan, said 120 militants were also killed in the strikes in Jani Khil, a strategically located district at a crossroads on a major route into Pakistan. But Taliban spokesman Zabihullah Mujahid denied the report as 'baseless', saying the air strikes had killed only eight people. He said 48 members of the security forces had been killed in fighting in the district. Insurgents overran the center of Jani Khil late on Friday, a significant success after they had stepped up attacks across Afghanistan in recent weeks."
Reuters: Four Haqqani Commanders Killed In East Afghanistan: Officials
"Russia questioned on Tuesday a report by the United Nations and a global chemical weapons watchdog that blamed Syrian government forces for two chlorine gas attacks, saying the U.N. Security Council could not use the conclusions to impose sanctions. A year-long U.N. and Organization for the Prohibition of Chemical Weapons (OPCW) inquiry, unanimously authorized by the 15-member Security Council, also found that Islamic State militants used sulfur mustard gas. The U.N. Security Council began talks on Tuesday on how to respond to the inquiry. When asked if he thought the report was enough to impose sanctions on Syria, Russian Ambassador Vitaly Churkin said: 'Frankly, I don't, but we continue to analyze the report.'"
Reuters: Russia Questions Report Blaming Syrian Government For Gas Attacks
"That Syrian war, now in its sixth year, has attracted more foreign fighters than any other conflict in modern history—surpassing the Soviet-Afghan conflict in the 1980s, which is thought to have drawn some 20,000 foreigners. Governments around the world continue to grapple with how to prevent their citizens from joining the conflict—and what to do with them when they come home. Their primary concern is what to do with returning jihadis, who may pose a threat to national security. They have generally paid less attention to the volunteers who have taken up arms on behalf of the Syrian Kurds, a stateless people in a semi-autonomous region known locally as Rojava, or 'the West.' The Kurdish fighters are battling to protect Rojava from ISIS, but they also dream of forging a free, democratic and independent Kurdish state in northern Syria."
Newsweek: Meet the Western Fighters Battling ISIS With Syria's Kurds
"A Pennsylvania woman held by the Taliban since 2012 appeared in a new video posted online today, looking dazed but healthy with her Canadian husband and saying their captors will kill the couple if the Afghanistan government doesn't stop executing militant prisoners. The 2 1/2-minute video with Caitlan Coleman, 30, of Stewartstown, Pennsylvania, and her Canadian husband, Joshua Boyle, 33, is the first glimpse of the couple since 2014, when her parents released two short video clips of them speaking in captivity. Dressed in a black dress and head covering, with her left hand holding what appears to be an earpiece to the side of her face, Coleman speaks directly to her parents and says she knows it is 'terrifying and horrifying' for them to hear that she might be executed herself. A counterterrorism analyst studying the video said Coleman and Boyle appeared 'out of it.' Near the end of her short statement, as she asks for their help, the video camera light illuminating the couple switches off suddenly."
ABC News: American Hostage Of Taliban Appears In New Video
Daily Dose
Extremists: Their Words. Their Actions.
Fact:
Taliban militants forced themselves into a house and gang-raped a woman in front of her children.
The Counter Extremism Project acts to shine a light of transparency and accountability on those persons, businesses and institutions that financially underpin the activities of extremist groups.
Learn More