European Advisory Board Member and President of the ICSA Foundation (Intelligence Culture and Strategic Analysis)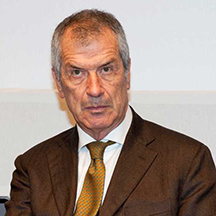 Lt. Gen. Leonardo Tricarico is the former Chief of Staff of the Italian Air Force, Military Advisor to the three successive prime ministers (1999-2004), Massimo D'Alema, Guilano Amato and Silvio Berlusconi, Commander of NATO's 5th Tactical Air Force and Deputy Commander of the Multinational Forces during the Balkan conflict (1999). The ICSA Foundation is a center of analysis that deals in innovative ways with security, defense and intelligence issues. Its mission is to analyze the main aspects of national and foreign security issues, the evolution of military defense models with respect to external threats, the increasing criminal and illegal phenomena in Italy and abroad, including cyber and technological security of the State and its individual citizens, especially in light of economic, financial and legal globalization.
Lt. Gen. Tricarico worked in closed cooperation with Wesley Clark, Supreme Allied Commander Europe of NATO and subsequently received a medal of honor from U.S. President Bill Clinton. Italian Massimo D'Alema nominated him Military Advisor to the President, a function that he performed during two subsequent presidencies.